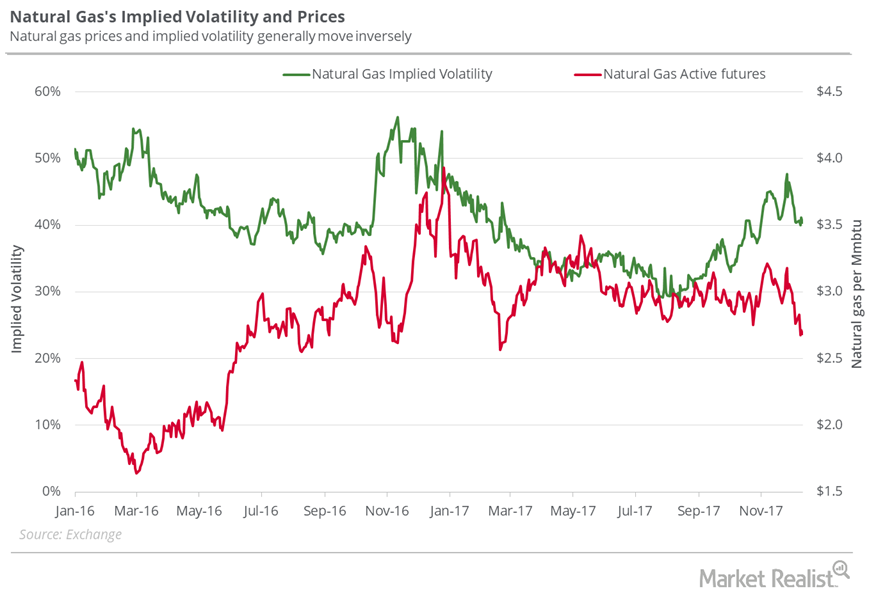 Could Natural Gas Hit a New 2017 Low Next Week?
Implied volatility
On December 14, 2017, the implied volatility of natural gas futures was 40.4%. It was ~5.9% below its 15-day average. With sudden changes in prices in a security or commodity in either direction, volatility of the security or commodity can surge.
Article continues below advertisement
Natural gas prices
There's a 68% chance that between December 15 and December 21, 2017, natural gas (GASL) (GASX) futures' closing price will fall $2.53 to $2.83 per MMBtu (million British thermal unit). That model assumes that prices are normally distributed. The implied volatility for this calculation was 40.4%.
On December 14, 2017, natural gas January 2018 futures closed at $2.68 per MMBtu. If the price of natural gas breaks below the $2.60 level next week, it could move close to the $2.56 level, the lowest 2017 closing price for natural gas active futures that occurred on February 21, 2017.
The United States Natural Gas ETF (UNG), the ProShares Ultra Bloomberg Natural Gas (BOIL), and the First Trust ISE-Revere Natural Gas ETF (FCG) could also fall since these ETFs follow natural gas futures.
Be sure to visit our Energy and Power page for energy updates.