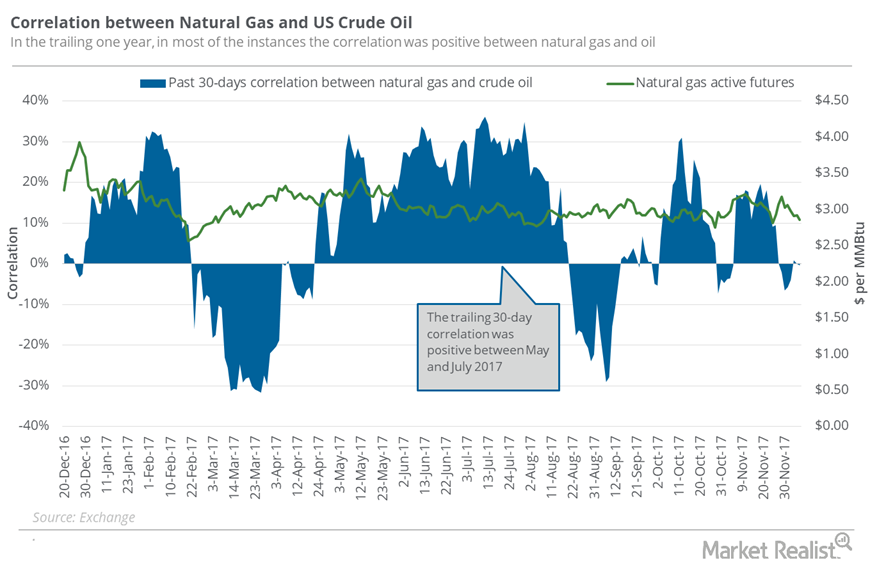 Does the Natural Gas Fall Relate to Oil's Decline?
Trailing week
Article continues below advertisement
Energy commodity downturn
This week, drivers of the US energy market could have dominated oil prices. Moreover, a rise of 6.8 MMbbls (million barrels) in total motor gasoline inventories in the week ended December 1 could have contributed to the 2.9% downside in US crude oil prices on December 6, when the EIA (US Energy Information Administration) released oil inventory data.
Natural gas prices were largely dominated by the weather forecast data, as we discussed in Part 1 of this series.
30-day rolling correlation
On December 6, the one-month rolling correlation between natural gas and US crude oil prices was also a minuscule 0.1%. However, the correlation was above 30% between May and July 2017 more of the time, which may indicate a direct relationship between the two energy commodities. Often, natural gas may track oil prices. In fact, the energy sector as a whole may follow oil prices. However, lately, this trend hasn't been the case. The two energy commodities are moving independently, driven by individual factors.
Visit Market Realist's Energy and Power page to learn more.