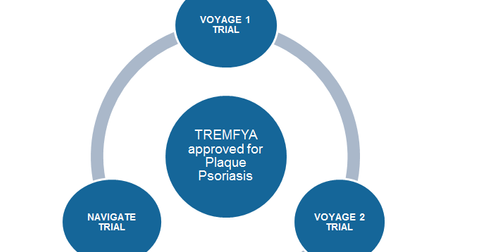 Johnson & Johnson's Tremfya Approved to Treat Plaque Psoriasis
By Daniel Collins

Updated
Tremfya approval
In July 2017, the US FDA (Food and Drug Administration) approved Johnson & Johnson's (JNJ) Tremfya (guselkumab) for the treatment of individuals with moderate to severe plaque psoriasis who are subjects for systemic therapy or phototherapy.
Tremfya is currently the only approved biologic that selectively inhibits the IL-23, a cytokine, which is known to play a significant role in plaque psoriasis. Johnson & Johnson's Tremfya received FDA approval based on the results from the phase three NAVIGATE, VOYAGE 1, and VOYAGE 2 clinical trials.
Article continues below advertisement
Clinical trial outcomes
In the VOYAGE 1 and VOYAGE 2 trials, Tremfya showed significant efficacy in individuals with moderate to severe plaque psoriasis. In the clinical trial, at least seven of ten patients treated with Tremfya achieved 90% clearer skin, while more than 80% of patients had clear skin or almost clear skin.
At week 16, Tremfya also demonstrated significant improvements in symptoms of plaque psoriasis including itching, pain, stinging, burning, and skin tightness. In the clinical trials, about nine of ten patients receiving Tremfya who achieved PASI 90 (90% decrease in Psoriasis Area and Severity Index) at week 28 maintained the response at week 48.
Johnson & Johnson conducted the phase three NAVIGATE trial to evaluate the efficacy of Tremfya in patients who inadequately responded to prior treatment with Johnson & Johnson's Stelara (ustekinumab). In the phase three NAVIGATE trial, at week 28, among prior Stelara treated patients, 31% of patients randomized for Tremfya therapy showed clear or almost clear skin compared to 14% of patients who continued to receive Stelara.
Tremfya will compete with Celgene's (CELG) Otezla, Eli Lilly's (LLY) Taltz, Novartis's (NVS) Cosentyx, and AbbVie's Humira. Taltz, Otezla, Cosentyx, and Humira reported revenues of $387 million, $908 million, $1.5 billion, and $13.5 billion, respectively, in the first nine months of 2017. The revenue growth of Tremfya could boost the SPDR S&P 500 ETF (SPY). Johnson & Johnson makes up about ~1.7% of SPY's total portfolio holdings.