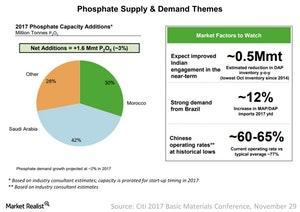 Phosphate Prices in 2018
Phosphate prices Earlier in this series, we discussed phosphate prices in 2017 and what has driven prices down recently. We saw that excess capacity pushed down phosphate fertilizer (NANR) prices during the year. In this part, we'll look at supply and demand trends for phosphate fertilizers in 2018. Supply and demand In 2017, overall global […]
Phosphate prices
Earlier in this series, we discussed phosphate prices in 2017 and what has driven prices down recently. We saw that excess capacity pushed down phosphate fertilizer (NANR) prices during the year. In this part, we'll look at supply and demand trends for phosphate fertilizers in 2018.
Article continues below advertisement
Article continues below advertisement
Supply and demand
In 2017, overall global phosphate capacity is expected to see a net capacity addition of 1.6 million metric tons (3% growth year-over-year). Most of this capacity (42%) is expected to come from Saudi Arabia, followed by Morocco (30%). In addition, as shown in the chart above, Chinese operating rates are expected to be lower than average at 60%–65%, which may offset some price pressure. Global demand for phosphate fertilizers is expected to grow 2% over the same period, with capacity growing faster than demand.
Price outlook
In PotashCorp's (POT), Agrium's (AGU), Mosaic's (MOS), and Israel Chemicals' (ICL) earnings reports and recent analyst conferences, we failed to find any strong expectations for upward phosphate price momentum in the coming year. PotashCorp CEO Jochen Tilk said that the company is less bullish on phosphate fertilizers than potash and nitrogen fertilizers. Next, we'll discuss expected merger closures in 2018.