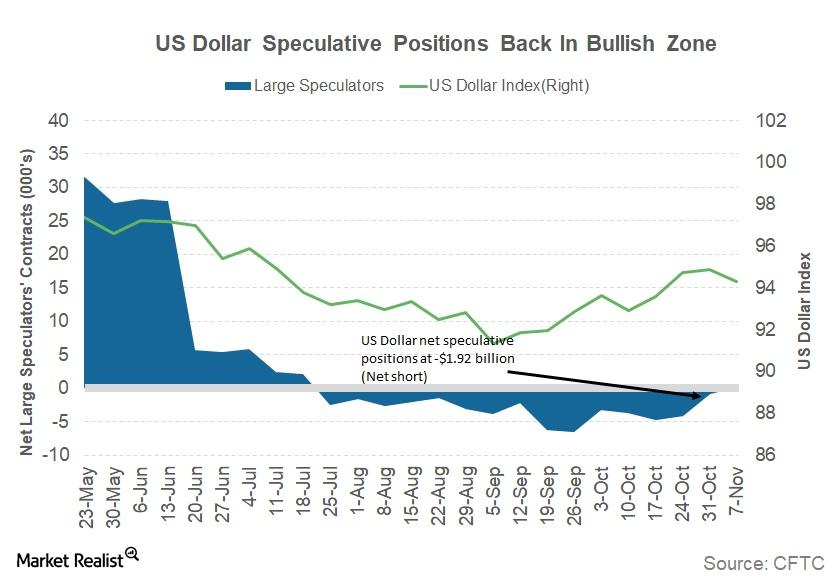 Will US Dollar Survive Tax Reform Uncertainty?
US dollar fell lower last week
The US Dollar Index (UUP) lost steam last week after posting three consecutive weekly gains. The US Dollar Index closed at 94.3 for the week ending November 10, a weekly loss of 0.61%. The key reason for the dollar's fall was the increasing uncertainty about US tax reforms. The US Senate's tax reform proposal had a key difference where corporate tax cuts could be delayed by another year.
The possibility of delays in implementing the reforms added some pressure on the US dollar last week.
Article continues below advertisement
Speculators trimmed bearish bets on the US dollar
As per the latest Commitment of Traders (or COT) report released on November 13 by the Chicago Futures Trading Commission (or CFTC), large speculators and traders trimmed the bearish bets on the US dollar last week. Large speculator bets are now closer to bullish territory after turning bearish four months ago.
As per Reuters calculations, the US dollar (USDU) net short positions fell to -$1.9 billion as compared to -$3.4 billion in the previous week. This amount is a combination of the US dollar's contracts against the combined contracts of the euro (FXE), British pound (FXB), Japanese yen (FXY), Australian dollar (FXA), the Canadian dollar (FXC), and the Swiss franc.
Outlook for the US dollar
This week's economic data releases include US inflation and retail sales data on Wednesday. Inflation expectations remain at 1.7% in October despite a drop in energy prices during that period. Retail sales are likely to start picking up heading into the holiday season. US industrial production is due to be reported on Thursday and is expected to sustain the bounce in activity recorded in September. Economic data will likely support the US dollar, but the key driver is likely to be sentiment surrounding tax reforms.
In the next part of this series, we'll discuss how bond markets returned to weakness last week.