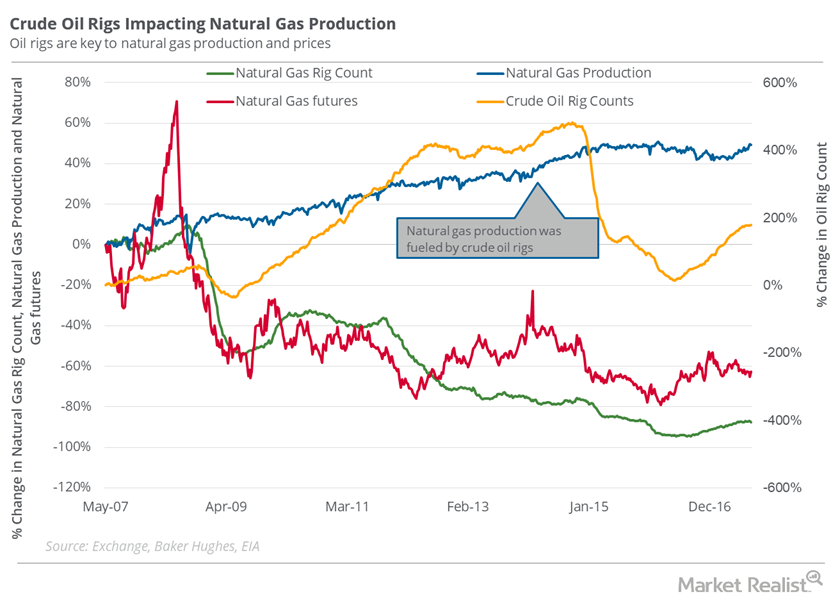 Will the Oil Rig Count Increase Natural Gas Downside Risk?
Oil rigs' role
Since 2008, the natural gas rig count has fallen ~89% from its record high. But the fall was unable to stop the rise in natural gas supplies. The reason could be the sustained rise in the oil rig count over this period.
In fact, on November 22, the US oil rig count rose by nine to 747. Chances are that, given higher oil prices, the oil rig count could be at a three-year high before May 2018, which could increase the downside risk in natural gas prices. On November 22, US crude oil active futures were at their highest closing price of 2017.
This bearish catalyst could be a concern for natural gas–weighted stocks like Range Resources (RRC), Southwestern Energy (SWN), Cabot Oil & Gas (COG), and Chesapeake Energy (CHK). These stocks have recently tended to follow natural gas (FCG) prices closely.
Article continues below advertisement
The natural gas rig count
On November 22, the natural gas rig count fell by one to 176. However, it rose by eight to 177 in the week ended November 17—the first rise in the previous eight weeks. Since the rise, natural gas prices have fallen 4.2%. So any rise in the natural gas rig count could trouble natural gas prices because rising rigs point to increased supply.