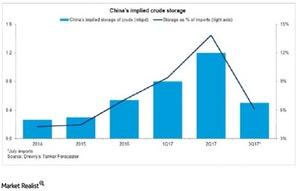 Will China's Crude Stocking Activity Fall in 2018?
By Sue Goodridge

Nov. 28 2017, Updated 11:59 a.m. ET
China and tanker industry
China, the second-largest economy in the world, is strategically important for the crude tanker industry. It's one of the highest crude oil importers. In the last two years, China's crude imports, which were higher due to its stocking activity, were the key reason behind the strong growth in crude oil trade. In this part, we'll see how China should shape up in the coming year and its impact on the tanker industry.
Article continues below advertisement
Stocking activity
There's a high possibility that China's stocking activity might fall in 2018. According to the IEA's data on China's implied stock changes, since 2015 China should have accumulated close to 520 million barrels—above the total SPR (special petroleum reserve) capacity that was supposed to come online in 2020.
In 3Q17, a significant fall in stocking activity from 1.2 Mbpd (thousand barrels per day) in the second quarter to 0.5 Mbpd was observed.
According to Drewry's shipping analyst, China's stocking activity will fall to 0.25 Mbpd in 2018 from an average of 0.75 Mbpd in 2017. Drewry's analyst stated, "the anticipated decline in China's stocking activity added to a slowdown in worldwide oil demand will keep global crude oil trade growth modest in 2018, which in turn will keep rates under pressure despite some slowdown in fleet growth."
It will be negative for crude tanker companies like DHT Holdings (DHT), Nordic American Tankers (NAT), Euronav (EURN), Gener8 Maritime Partners (GNRT), and Tsakos Energy Navigation (TNP).