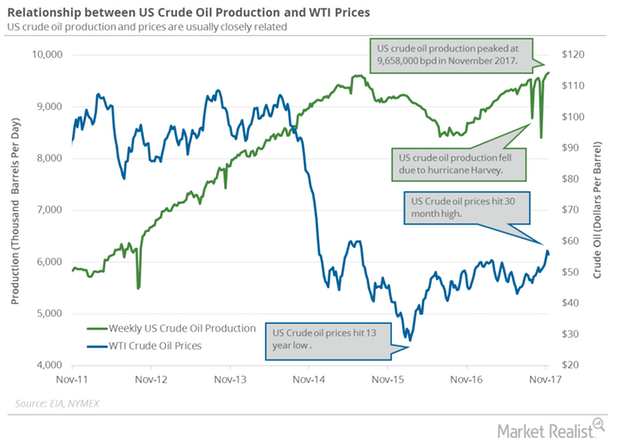 Why US Crude Oil Production Could Hit a Record High in 2018
US crude oil production 
According to the EIA (U.S. Energy Information Administration), US crude oil production rose 13,000 bpd (barrels per day) to 9,658,000 bpd between November 10 and 17, 2017. Production, which rose for the fifth straight week, has been pressuring oil (SCO) prices in the last few weeks. Production has risen 977,000 bpd (11.3%) year-over-year. Any rise in US crude oil production is bearish for oil (UCO) prices.
Article continues below advertisement
Why US crude oil production could hit a record high in 2018
The above chart shows the effects of higher US crude oil production on oil prices. Brent and US (UCO) oil prices have risen more than 30% since reaching lows in June 2017. Higher oil prices benefit the profitability of oil producers (PXI) (FENY) such as Anadarko Petroleum (APC), Gulfport Energy (GPOR), and Marathon Oil (MRO), and drive US crude oil production. Improving production and break-even costs for US shale producers and technological advancement could also drive US oil production.
US crude oil production estimates 
Goldman Sachs expects US crude oil production to rise by 850,000 bpd in 2018, and the EIA expects US production to average 9.2 million bpd and 10 million bpd in 2017 and 2018, respectively. Average production in 2015 and 2016 was 9.4 million bpd and 8.9 million bpd.
Impact 
Record US production could offset some of the effects of ongoing production cuts, and the expected rise in non-OPEC supplies and slowing oil demand in 2017 and 2018 could also weigh on oil prices. Next, we'll cover how US gasoline inventories affect oil prices.