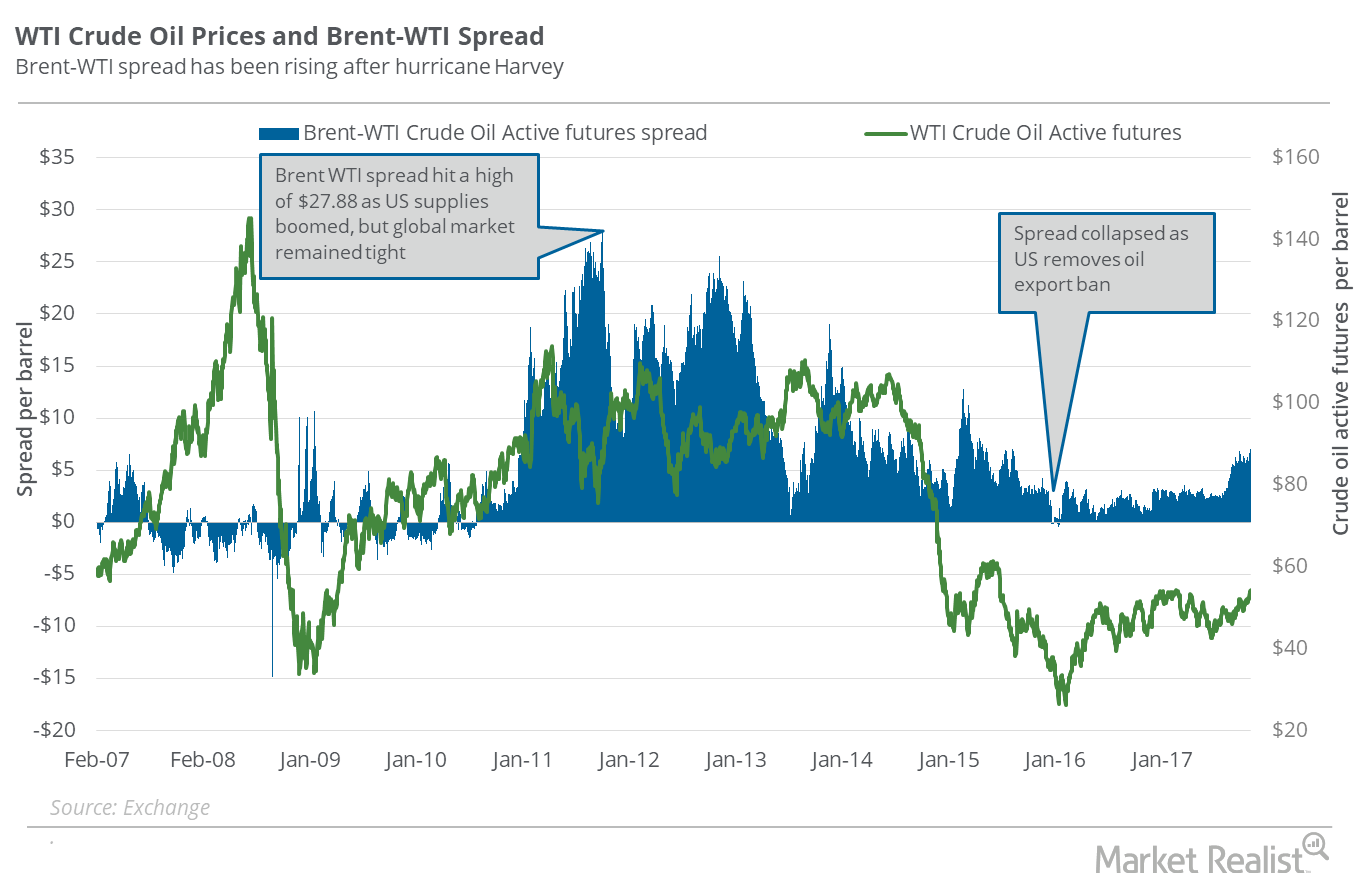 US Crude Oil Exports: Will They Affect OPEC's Production Cut Deal?
Brent-WTI spread
On November 7, 2017, the difference between Brent crude oil (BNO) active futures and US crude oil (USO) active futures, or the Brent-WTI (West Texas Intermediate) spread, was $6.50. On October 31, 2017, the Brent-WTI spread was $6.99. Over this period, the US crude oil December futures rose 5.2%, while Brent crude oil active futures rose 4.5%.
Article continues below advertisement
US crude oil exports
In the week ended October 27, 2017, US crude oil exports exceeded 2 million barrels per day. It was the highest level for US crude oil exports since 1991, according to EIA (U.S. Energy Information Administration) data. It could be problematic for a possible extension of OPEC's (Organization of the Petroleum Exporting Countries) production cut deal because the United States is emerging as a major global source of supply.
In the last year, US crude oil exports rose more than five times. Over that period, the Brent-WTI spread expanded $5.20. That would make oil exports from the United States more profitable.
A higher Brent-WTI spread could benefit US crude oil exporters. Based on the EIA's STEO (Short-Term Energy Outlook) report, the Brent-WTI spread could remain around the $6 level until 1Q18. For the second half of 2018, the spread could fall to $4.
But cheaper US crude oil is a disadvantage for US oil producers (XOP) (DRIP) (IEO) compared to their international peers. However, US refineries (CRAK) could have higher profits due to cheaper US crude oil since their input and higher prices of refined items benchmarked to stronger Brent oil prices.
For more updates on the energy sector, be sure to follow our Energy and Power page.