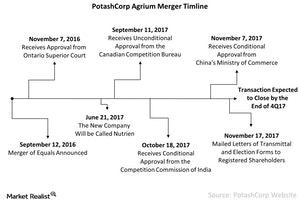 An Update on the PotashCorp-Agrium Merger
Background of the merger
On September 12, 2016, Potash Corporation of Saskatchewan (POT), also known as PotashCorp, and Agrium (AGU) announced their intention to combine in a merger of equals. In a merger of equals, the two firms are usually about the same size.
As of the date of this writing, PotashCorp had a market capitalization of $16.4 billion, while Agrium had a market capitalization of about $15.1 billion. Meanwhile, Mosaic (MOS) has a market capitalization of $8.4 billion, and CF Industries (CF) has a market capitalization of $8.4 billion.
Article continues below advertisement
All-stock transaction
In this all-stock transaction, shareholders of both companies will receive shares of the newly combined company in exchange for their existing holdings in PotashCorp and Agrium. On November 17, 2017, both PotashCorp and Agrium sent out information to registered shareholders with instructions on exchanging their shares for the new company.
Merger for growth
In recent quarters, fertilizer companies (MOO) have faced a strong headwind from excess capacity. The growth in capacity took place faster than the growth in demand. As a result of this imbalance, the fertilizer prices fell to multiyear lows, and the negative impact of low prices was evident in the weak earnings of companies including CF Industries (CF) and Intrepid Potash (IPI).
To maintain market share and justify operating costs, companies curtailed their productions until prices regained momentum. Some companies resorted to consolidation in order to lower cost through operating synergies.
In 3Q17, fertilizer companies continued to struggle, though potash and urea prices gained momentum. Phosphate fertilizers remained weak, and the overall outlook for fertilizer companies now remains subdued.
To learn more about how fertilizer companies performed in 3Q17, check out the series Comparative Analysis of Fertilizer Companies' 3Q17 Earnings.
Keep reading this series (below) for a discussion of the developments and updates related to the PotashCorp-Agrium merger.