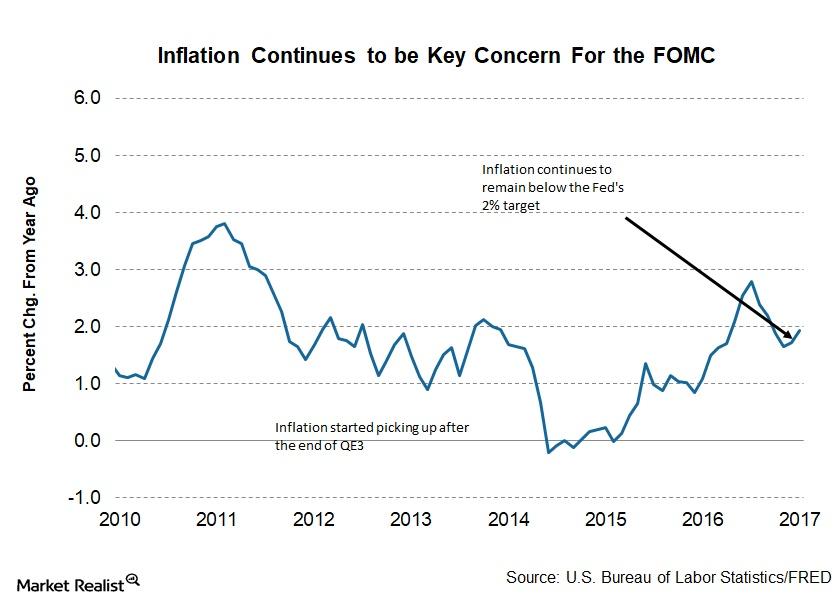 The FOMC's Outlook for the US Economy
US GDP expected to improve in the fourth quarter
As per economic projections prepared by the FOMC, US real GDP is expected to improve in the final quarter of this year. The bump in economic activity might come from the rebound in spending and production, which were affected by hurricanes in the third quarter. The projection for 2018 was the same as the previous meeting's, with a modest rise in output expected through 2019. Unemployment is expected to remain below the long-run estimate of 4.5%, and it's expected to fall in the near term.
Article continues below advertisement
Expectations for inflation growth
Inflation expectations remain unencouraging despite a spike in energy (XLE) prices. FOMC staff forecasted higher energy prices, which were offset by a lower forecast for core personal consumption expenditure (or PCE) inflation. Inflation (TIP) expectations for 2018 were lower, as the FOMC felt that unexplained reasons for lower inflation in 2017 could continue in 2018. Only in 2019 is the inflation (VTIP) rate likely to meet the Fed's 2% target rate.
Lower inflation is likely to keep the Fed from raising interest rates too quickly. This outlook contrasts with the Fed's forward guidance for four more hikes in 2018, and it's the reason for a flattening yield curve in the bond (BND) markets.
Uncertainties that could impact these economic projections
The FOMC's economic outlook cited uncertainty surrounding US federal government policies as the key risk. Leaving this uncertainty out, the risks to the outlook remain balanced. Inflation (SCHP) remains the key concern.
In the next part of this series, we'll discuss the FOMC's view of the US equity (SPY) and bond markets.