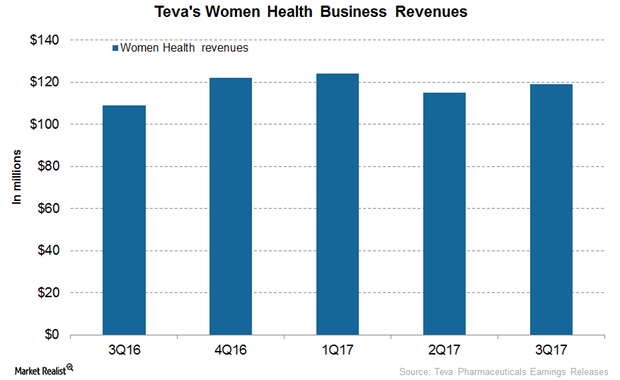 Teva on Women's Health—And Other Recent Developments
By Daniel Collins

Nov. 23 2017, Updated 9:02 a.m. ET
Women's Health revenue trends
Teva Pharmaceutical Industries' (TEVA) Women's Health segment reported 3Q17 revenues of $119 million, which was ~9% higher YoY (year-over-year) and 3% higher QoQ (quarter-over-quarter).
From January 2017 to September 2017, or YTD (year-to-date) as of September 2017, the Women's Health segment reported revenues of $358 million, compared with $336 million during the corresponding period of 2016.
In September 2017, Teva (TEVA) entered into an agreement wherein CVC Capital Partners Fund VI will acquire Teva's products within the Women's Health segment in contraception fertility, menopause, and osteoporosis for a cash transaction of $703 million.
In November 2017, Teva completed the sale of Plan B One-Step and some branded products of contraception for emergency use to Foundation Consumer Healthcare in a cash transaction of $675 million.
Article continues below advertisement
Other recent developments
In July 2017, the FDA (US Food and Drug Administration) accepted for review Teva's and Celltrion's BLA (Biologics License Application) for a proposed biosimilar to Roche's (RHHBY) Herceptin.
In September 2017, Teva and Nuvelution announced a partnership in the development of Austedo to treat tics related to Tourette's Syndrome in pediatric individuals in the US.
In July 2017, Teva launched a generic version of Galderma's Epiduo gel in the US. Teva first filed the application for the approval of the generic version of the drug, and now, it's expected that Teva may gain the advantage of 180-day market exclusivity. Epiduo is used to treat Acne Vulgaris in individuals nine years or older.
Teva's peers in the women's health market include Eli Lilly (LLY), Merck (MRK), and Allergan (AGN), which reported 3Q17 revenues of ~$5.7 billion, $10.3 billion, and $4.0 billion, respectively.
Notably, the Pharmaceutical ETF (PPH) invests ~4.6%, 4.2%, and 3.9% in Eli Lilly, Merck, and Teva, respectively.