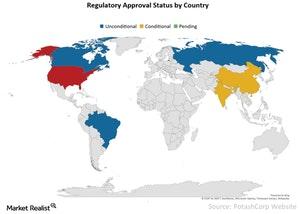 Behind the Approvals for the PotashCorp-Agrium Merger
By Adam Jones

Updated
Nutrien: the new company
After they merge, Potash Corporation of Saskatchewan (POT), also known as PotashCorp, and Agrium (AGU) will be known as Nutrien, which will then be the largest crop nutrient company in the world. Given the size of the combined company, such a merger usually passes through the review of anti-trust watchdogs in jurisdictions where these companies have high visibility.
Article continues below advertisement
Approval status by country
Nutrien has had to pass through the review of regulators in countries including Canada, Russia, India, China, Brazil, and the US. As of the date of this writing, Nutrien has received unconditional approval from Canada, Brazil, and Russia.
The merger has received conditional approvals from India and China, and the company has stated that regulators in the US are still reviewing the transaction.
Protecting interests
PotashCorp is one of the lowest-cost potash producers in the world, while Agrium has one of the largest retail networks in the US. The combination of the two companies could negatively impact crop nutrient players Israel Chemicals (ICL) and Mosaic (MOS) in addition to related industries (XLB) where these two companies operate.
Before approving the merger, regulators would likely ensure that they can protect the interests of parties that operate within the same sector in their respective countries. The nature of approval may depend on the potential competitive displacement that Nutrien would have in certain jurisdictions. But even if regulators decide that the merger could create anti-competitive pressure, they can't always completely block the transaction and may require certain pre-conditions to be fulfilled in order to complete the merger.
For China and India, the pre-conditions include PotashCorp divesting its minority interests certain companies.
To learn more about crop nutrient industry, check out Market Realist's series Agricultural Fertilizer Industry: Your Comprehensive Overview.
Continue to the next part of this series for a closer look at the merger's conditions.