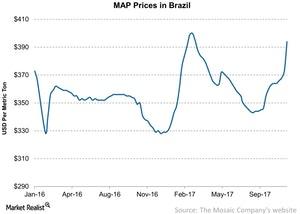 A Price Update on MAP Fertilizers in Brazil
MAP prices
For the week ending November 17, the MAP (monoammonium phosphate) prices rose week-over-week—similar to what we saw for DAP (diammonium phosphate) prices.
Article continues below advertisement
Weekly movements
Last week, the MAP prices in Brazil rose as much as 5.6% week-over-week to $394 per metric ton from $373 per metric ton a week ago. Last week's prices were close to the $400 per metric ton peak observed earlier this year. The prices remain comfortably higher than the low point of $343 per metric ton.
Earlier this year, Mosaic's management stated that the Brazilian market hasn't been impacted by political instability in the country. It might be evident in the strong MAP prices we've seen this year.
Outlook series
Recently, we published a series that discussed the current environment and outlook (MOO) on the NPK (nitrogen, phosphorous, and potassium) prices. The series provided notes about Mosaic (MOS), PotashCorp (POT), Israel Chemicals (ICL), and Agrium's (AGU) earnings. We discussed that phosphate prices are expected to rise due to an increase in the cost of raw materials like ammonia and sulfur. Read What's the Short-Term Outlook on Fertilizers? to learn more.
In the next part, we'll discuss potash prices.