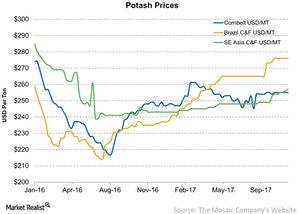 Potash Price Update for the Week Ending November 17
Potash prices
Potash prices have remained stable in recent weeks. The prices have risen from the levels in 2016. Strong demand from most of the regions around the world and tighter supply have favored the rise in potash prices. We'll look at last week's movements below.
Article continues below advertisement
Weekly movements
Last week, potash prices at all of the three locations in the above chart were broadly flat to positive. The prices in the Cornbelt region of the US were flat at $231 per metric ton. Last week was the sixth consecutive week that potash prices were mostly unchanged week-over-week. In New Orleans (not shown above), potash prices remained unchanged at $202 per metric ton.
In Brazil, potash prices remained flat at $276 per metric ton from a week ago. It was also the sixth consecutive week that the prices remained unchanged in Brazil week-over-week.
In contrast to these two locations, the prices in the South East Asia region rose by 39 basis points week-over-week to $257 per metric ton from $256 per metric ton a week ago.
Yearly movements
At all of the locations above, the potash prices were higher compared to the levels in the same quarter in 2016.
In Brazil, the prices have risen 17% YoY (year-over-year). In the South East Asia region, the prices have risen 6%, while the prices have risen ~6% YoY in New Orleans. In the Cornbelt region, the prices have risen ~2% YoY.
Recently, PotashCorp (POT) and Agrium (AGU) indicated in their earnings release that potash producers (MOO) are committed for the rest of the year. In the coming months, potash prices might remain stable, which will support Israel Chemicals (ICL) and Intrepid Potash (IPI).