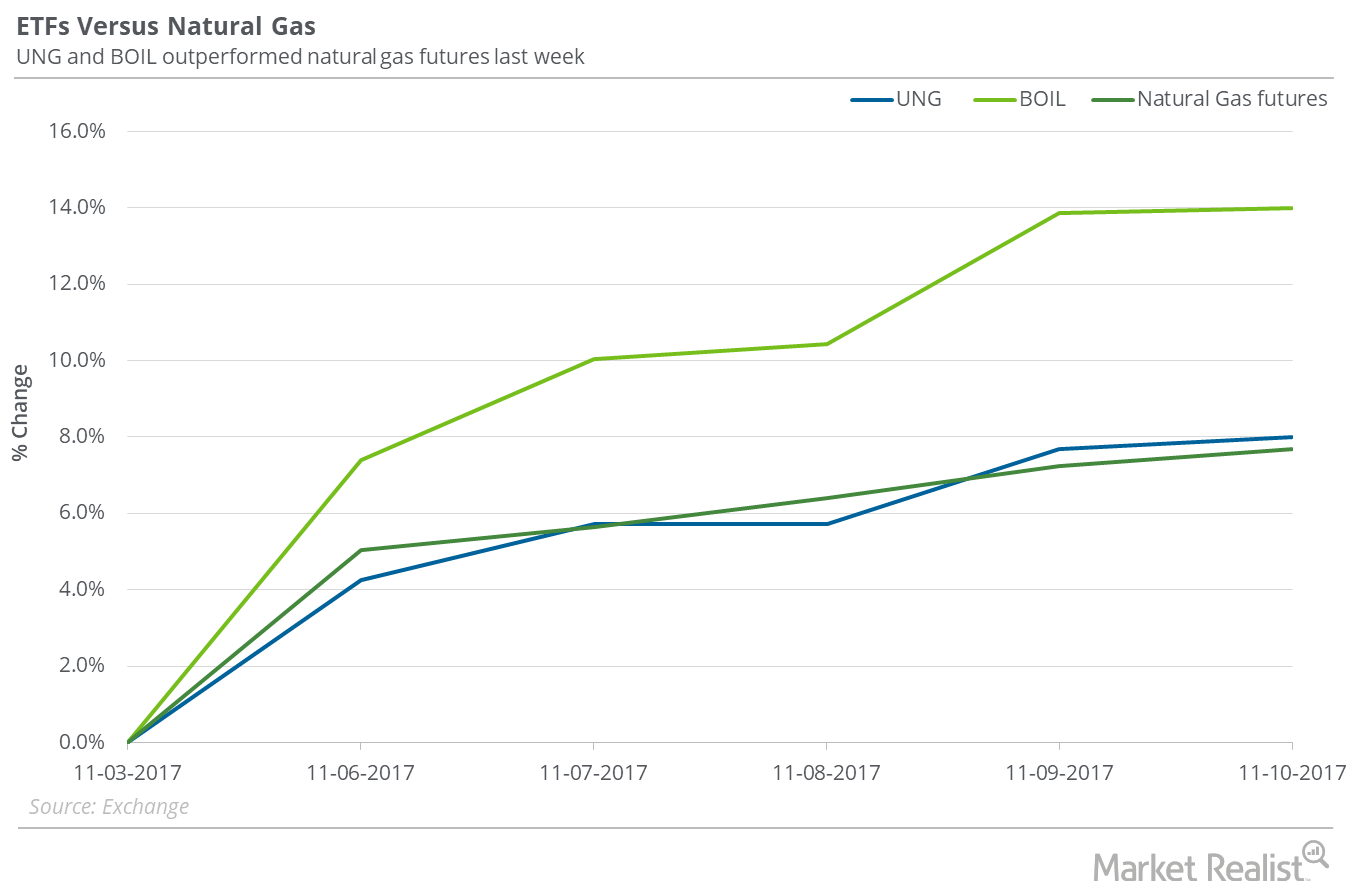 Did Natural Gas ETFs Outperform Natural Gas Last Week?
ETFs
Between November 3 and November 10, 2017, the United States Natural Gas Fund LP (UNG) rose 8%, only 30 basis points above the gain in natural gas December futures. UNG's objective is to follow natural gas near-month futures.
However, the ProShares Ultra Bloomberg Natural Gas (BOIL) rose 14% during this period and outperformed UNG. BOIL's objective is to produce twice the daily price variations of the Bloomberg Natural Gas Subindex. In part one of this series, we discussed the factors that were behind natural gas's rise.
Article continues below advertisement
March 2016
On March 3, 2016, natural gas (GASL) (GASX) (FCG) active futures were at their lowest closing level in the previous 17 years. Between March 3, 2016, and November 10, 2017, natural gas active futures rose 96%. However, UNG rose 14.2%, while BOIL fell 2.4%, respectively, during this period.
The negative roll yield could have limited the upside in these ETFs. The two consecutive futures contracts' price difference could be the main factor behind roll yield. So, if active futures priced lower compared to the following month's contract, then these ETFs could incur losses.
For BOIL, the compounding of its daily price variation over a long-term period could cause a deviation between its actual return and its expected return.
On November 10, 2017, natural gas futures contracts prices until February 2018 are in ascending order. Read Futures Spread: Is the Natural Gas Market Tightening? to understand more.