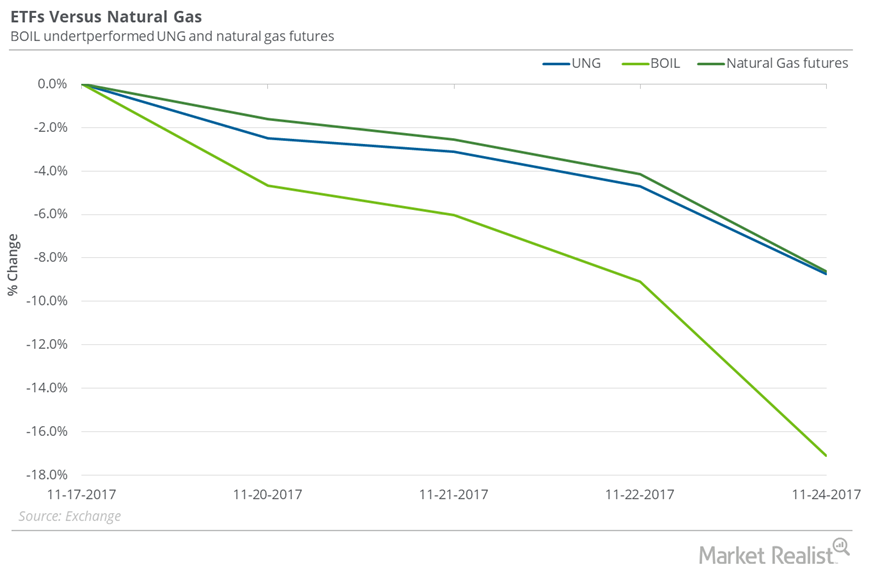 How Are Natural Gas ETFs Adjusting to Fall in Natural Gas Prices?
Natural gas ETFs
Between November 17 and November 24, 2017, the United States Natural Gas Fund LP (UNG) fell 8.8%. The fund tracks natural gas near-month futures. During this period, natural gas active futures fell 8.6%.
The ProShares Ultra Bloomberg Natural Gas ETF (BOIL) fell 17.1%, which is on par with its objective to produce twice the daily changes of the Bloomberg Natural Gas Subindex. It underperformed natural gas and UNG.
Article continues below advertisement
Since 2016
Between March 3, 2016, and November 24, 2017, the recovery in natural gas active futures was 71.6%. On March 3, 2016, natural gas (GASL) (GASX) (FCG) active futures were at their 17-year lowest closing price. However, UNG rose only 0.9%, while BOIL fell 23.8% between March 3, 2016, and November 24, 2017.
UNG's underperformance could be because of the negative roll yield. The variation in prices of two consecutive near-month futures contracts results in the roll yield. If active futures are lower than the following month's futures contract, these ETFs bear holding rollover losses. For more, read Are Oversupply Concerns Gripping Natural Gas Prices?
On November 24, natural gas contracts between December 2017 and February 2018 settled at progressively higher prices. BOIL's actual return could also vary from its expected return because of the compounding effect of its daily price fluctuations.