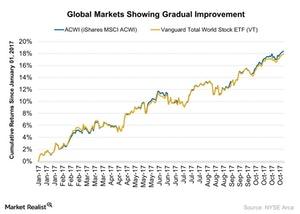 A Look at Key Economic Indicators Released Last Week
Key economic indicators
Major economic indicators released last week include the following:
Economic indicators are important measures to understand the performance of the global economy. These indicators show the trend of a country's economic activity. Many market participants change their positions according to the outcome of these economic indicators.
Article continues below advertisement
Series overview
In this series, we'll take a look at US inflation, US retail sales, and China's retail sales for October 2017. We'll also analyze the Germany Ifo Business Climate Index, the Germany ZEW Economic Sentiment Index, and the Eurozone ZEW Economic Sentiment Index in November 2017.
We'll also look at the Eurozone's consumer confidence in November 2017 and the Eurozone's inflation in October 2017.
Let's start by analyzing the performance of China's retail sales for October 2017.