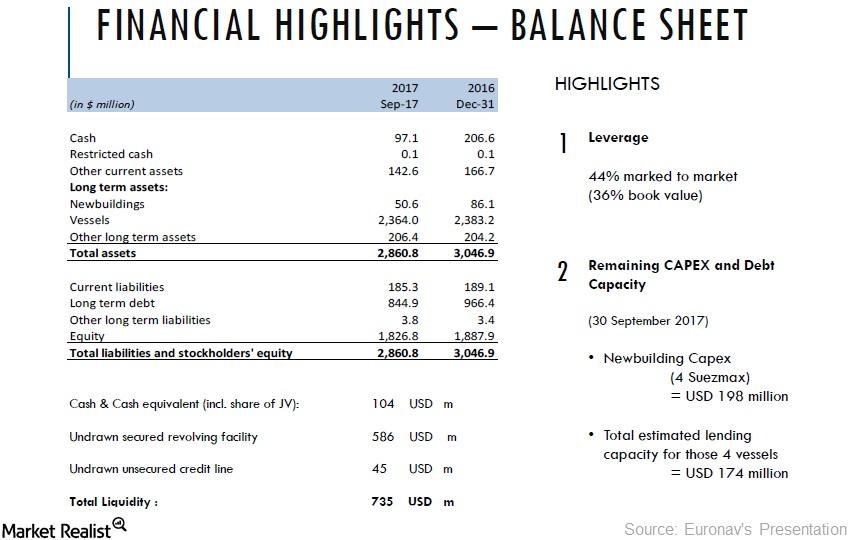 Key Highlights from Euronav's Balance Sheet
By Sue Goodridge

Nov. 7 2017, Updated 7:32 a.m. ET
Leverage
Managing a balance sheet, especially for highly leveraged companies, is of utmost importance. Euronav (EURN), just like other crude oil tanker companies, is highly leveraged.
Below are some of the key highlights from Euronav's financials:
In 3Q17, Euronav repaid all its outstanding debt and associated liabilities, which amounted to $30.2 million on FSO (floating storage and offloading) joint ventures. Euronav's FSOs are now debt-free.
The stage payments of $12.5 million associated with the construction of four Suezmax vessels at the Hyundai shipyards in South Korea will be delivered in 2018. These vessels are accompanied by four seven-year time charter contracts.
A $150 million unsecured bond was listed on the Oslo Stock Exchange on October 23, 2017. The company has diversified its funding structure by entering into debt capital markets.
Article continues below advertisement
Debt profile
As of September 30, 2017, Euronav had total bank loans of $744 million, of which $697 million was a long-term loan and the remainder was a short-term loan. The long-term loan was below $966 million as of December 31, 2017. Since 2010, the company's debt has been below $1.2 billion. Its leverage was 36% of the book value and 44% of the market value.
Liquidity position
Euronav had a liquidity of $735 million at the end of the third quarter. It has been working to strengthen its liquidity position. 
The company's current assets of $239 million are well above its current liabilities of $185 million. Its current ratio is ~1.29x, compared to ~2.3x at the end of the previous quarter. Nordic American Tankers (NAT) has the highest current ratio among its peers. At the end of 2Q17, its ratio was 5.14x. The ratios for Teekay Tankers (TNK), DHT Holdings (DHT), and Tsakos Energy Navigation (TNP) as of September 30, 2017, were 0.80x, 1.75x, and 1.03x, respectively.