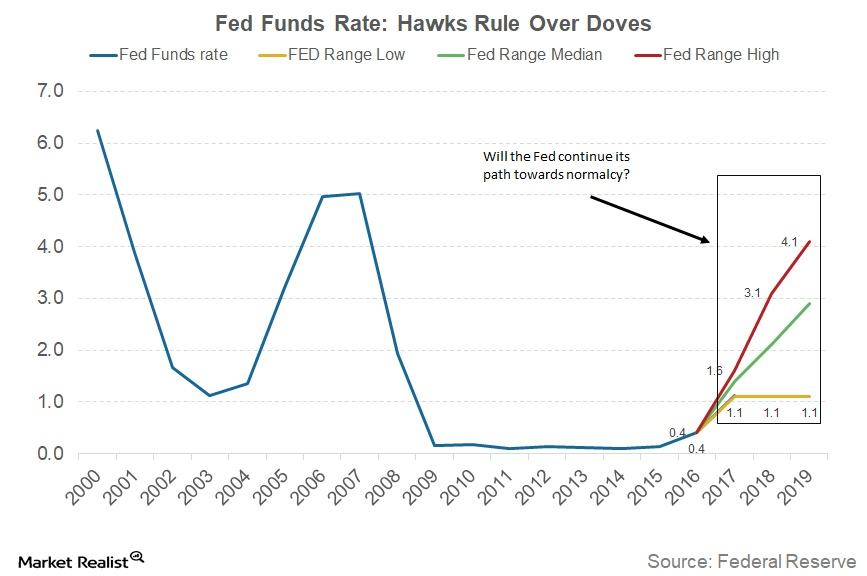 Key FOMC Insights and the New Fed Chair
Rates left unchanged at the November meeting
The US FOMC (Federal Open Market Committee) left rates unchanged after the November 2017 meeting, as expected, setting the stage for a potential rate hike in the December 2017 meeting. Investor doubts that the Fed could slow down after Hurricanes Harvey, Irma, and Maria were cleared as the Fed downplayed the September payroll drop.
The Fed has now stressed that the US economy is rising solidly, compared with its the previous statement about the US economy experiencing a more moderate rise. Now, the probability of a December rate hike has risen to 91.5%, compared with 34% after the August FOMC meeting.
Article continues below advertisement
Balance sheet reduction to continue at the prescribed pace
The US Fed will continue its balance sheet normalization program at the advertised pace of $10 billion per month this quarter and increase the monthly amount by $10 billion per quarter until the monthly amount reaches $50 billion. The reduction ratio for treasuries (GOVT) and mortgage-backed securities (MBB) will remain at 60:40.
The new Fed chair, policy continuity
President Donald Trump has nominated the current Fed Governor Jerome Powell for the post of US Federal Reserve Chair. Powell's nomination guarantees a continuation of Fed policies that he has been closely working with Janet Yellen on. Powell has never expressed disagreement with past FOMC decisions.
In this series, we'll analyze the key economic data that has been reported this month in an effort to understand the implications for bond (BND), equity (SPY), and currency markets (UUP).