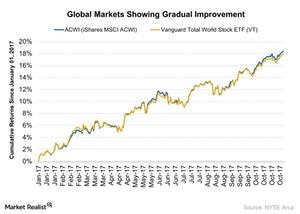 These Key Economic Indicators Have Just Been Released
Key economic indicators
The key economic indicators released recently include the following:
France's (EWQ) final manufacturing PMI
Germany's (EWG) final manufacturing PMI
Spain's (EWP) final manufacturing PMI
the UK's (EWU) final manufacturing PMI
Japan's (EWJ) final manufacturing PMI
US non-farm payroll
US ADP employment
US 3Q17 GDP
Economic indicators are important for global investors because they reflect the condition of the global economy. Market movements vary according to the performance of various economic indicators.
Article continues below advertisement
Series overview
Manufacturing PMIs are an important indicator both for market participants and policymakers. These reports show the trends of manufacturing activity in economies.
In this series, we'll take a look at the final manufacturing PMI of major developed nations including the US, the UK, Japan, Germany, France, Spain, and the Eurozone for October 2017. We'll also analyze the performance of the US non-farm payroll and the ADP employment report for October 2017.
In the next part (below), we'll analyze the final US manufacturing PMI for October 2017.