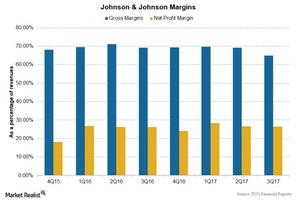 How Johnson & Johnson's Profit Margins Trended in 3Q17
By Mike Benson

Nov. 28 2017, Updated 9:01 a.m. ET
Johnson & Johnson's profitability
As discussed earlier, Johnson & Johnson (JNJ) reported revenues of $19.7 billion during 3Q17, a 10.3% increase as compared to revenues of $17.8 billion during 3Q16. However, the gross profit margins contracted in 3Q17, while the net profit margins marginally improved as compared to 3Q16.
The above chart shows profit margins for Johnson & Johnson over the last few quarters.
Article continues below advertisement
Profit margins
The gross product margin contracted by over 4% to 64.9% during 3Q17 as compared to 69.2% during 3Q16. The decrease in gross profit margin was mainly due to an increase in the cost of products sold, following the addition of new products to JNJ's portfolio.
Also, the increased spending on research and development as well as increased selling, marketing, and administrative expenses resulted in the lower net profit margin. The company also reported other income of $236 million during 3Q17 as compared to other income of $54 million during 3Q16. The net profit margin contracted to 19.2% during 3Q17 as compared to 24.0% during 3Q16.
Financial guidance 2017
The 2017 sales guidance was revised, and the company estimates sales to be between $76.2 billion to $76.5 billion during 2017, which includes an operational increase in revenues by 5.5% to 6.0% and a ~0.5% positive impact of foreign exchange. The company also expects a negative impact of ~3.0% on revenues due to acquisitions and divestitures. Adjusted earnings per share are expected to be between $7.25 and $7.30 for 2017. The company also expects its pre-tax operating margin during 2017 to stay flat or show a slight contraction.
The iShares US Healthcare ETF (IYH) holds 11.4% of its total investments in Johnson & Johnson (JNJ), 4.6% in Merck (MRK), 3.1% in Bristol-Myers Squibb (BMY), and 3.0% in Abbott Laboratories (ABT).