Green Bonds Issuance Show Signs of Growth in 2017
Green bonds carry the same risk-return profile as conventional bonds. However, these bonds fund projects focused on energy efficiency, clean water, transportation, biodiversity, and sustainable waste management.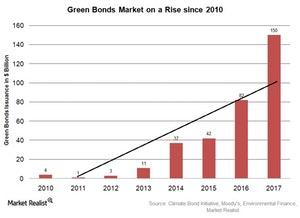 VanEck
Green bond issuance this year has surpassed 2016 totals and appears to show no signs of slowing. Year-to-date issuance in 2017 totalled $90.1 billion, as of October 18, versus $81.6 billion in 2016, according to the Climate Bonds Initiative ("CBI"). In fact, September was the busiest month this year with nearly $15 billion issued.
Article continues below advertisement
Article continues below advertisement
Investors demand assurance
Notable also is the $12.5 billion of green bonds that were certified under the Climate Bond Standard.[1.The Climate Bonds Standard is a screening tool for investors and governments which allows them to easily prioritize climate and green bonds with confidence that the funds are being used to deliver climate change solutions. Source: Climate Bonds Initiative] This means that a third party was engaged to verify the green credentials of the projects financed and that post-issuance reporting standards are adhered. In 2016, $7.3 billion of green bonds were certified under this standard, demonstrating growing investor demand for this level of assurance. In addition, 87% of the bonds issued this year received a second-party opinion, meaning that the issuer engaged an independent organization to review the bond and the issuer's green bond framework against the Green Bond Principles,[2. The Green Bond Principles (GBP), updated as of June 2017, are voluntary process guidelines that recommend transparency and disclosure and promote integrity in the development of the Green Bond market by clarifying the approach for the issuance of a Green Bond. Source: International Capital Markets Association] and in many cases assess the "green-ness" of the projects financed.
Market Realist
What are green bonds?
Green bonds, as the name implies, are conventional bonds (AGG) (LQD) that feature an environmentally conscious use of their proceeds. As concerns regarding climate change continue, climate-related risks and their financial impact on the global economy (ACWI) cannot be ignored.
Green bonds carry the same risk-return profile as conventional bonds. However, the proceeds from these bonds are used to fund environmentally friendly projects focused on energy efficiency (VDE), clean water, transportation (IYT), biodiversity, renewables (QCLN), and sustainable waste management.
Article continues below advertisement
Green bonds issuance booming this year
The chart above illustrates the green bonds market boom since 2010. Green bonds issuance in 2017 year-to-date has crossed the 2016 issuance and is expected to grow further. Data from Bloomberg New Energy Finance states that another $39 billion of green bonds are expected by the end of 2017.
Of the 195 signatories to the Paris Agreement, 168 of these states have ratified the agreement. These parties have come together to fulfill the objectives of the Paris Agreement and work toward creating a low-carbon economy starting in 2020.
As part of the agreement, these nations have agreed to limit global warming to less than 2 degrees Celsius above preindustrial levels. This aim supports initiatives by these countries to boost the growth of green bonds. According to estimates by the Climate Bonds Initiative (or CBI), green bonds issuance could reach $150 billion in 2017.
Identifying green bonds
The International Capital Market Association's Green Bond Principles and the Climate Bonds Initiative's Climate Bonds Standards decide which bonds should be labeled green.
Let's move on to discuss the criteria of a green bond and its importance to investors.