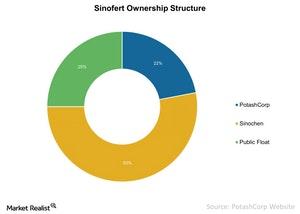 Behind PotashCorp's Ownership in Sinofert Holdings
By Adam Jones

Updated
Sinofert Holdings
Potash Corporation of Saskatchewan (POT), also known as PotashCorp, owns 22% of Sinofert Holdings and appoints two of the latter's seven board members. According to PotashCorp, Sinochem is the largest owner of Sinofert Holdings with a 53% stake, and the remaining 22% is traded on the Hong Kong Stock Exchange.
Sinofert's business
According to PotashCorp, Sinofert is the largest potash producer in China and the largest importer and distributor of fertilizers in China. Sinofert produces nitrogen fertilizer urea, potash fertilizers, phosphate fertilizers such as DAP (diammonium phosphate), and compound fertilizers, which are also known as multi-nutrients.
Sinofert's customers
China is Sinofert's primary customer. According to Sinofert's website, its distribution network covers over 95% of all arable land in China. The company plays a critical role in ensuring the supply of fertilizers within the country. But Sinofert is not just an importer and distributor of fertilizer in China—it also provides agricultural services to provide systematic agricultural solutions.
Given the profiles of the four companies we've discussed in the preceding parts of this series, it should be clear why China and India have set certain conditions for the PotashCorp-Agrium (AGU) merger. To know more about crop nutrient industry, including the returns of players (MOO) like CF Industries (CF) and Mosaic (MOS), check out Market Realist's series Agricultural Fertilizer Industry: Your Comprehensive Overview.
Continue to the next and final part of this series for an overview of China's and India's conditions for the PotashCorp-Agrium merger.