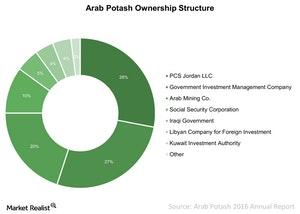 Behind PotashCorp's Ownership in Arab Potash
Arab Potash ownership
Potash Corporation of Saskatchewan (POT), also known as PotashCorp, owns 28% of Arab Potash and can appoint three of the latter's 12 board members. According to PotashCorp, it can also appoint senior management positions, which include president and CEO (chief executive officer) and vice president positions of operations, finance and support service, and marketing and sales.
After PotashCorp, the Government of Jordan owns the second-largest stake in Arab Potash at 27%, followed by Arab Mining at 20%.
Article continues below advertisement
Arab Potash's business
Headquartered in Amman, Jordan, Arab Potash is the largest producer of potash in Jordan and primarily produces and distributes potash crop nutrients. Arab Potash produces standard, granular, and fine grades of potash and supplies potash products to industrial users.
In 2016, the company produced 2 million tons of potash, with more than half of the potash at standard grade, ~41% at fine grade, and the rest at granular grade for industrial customers.
Given the company's heavy exposure to potash fertilizers, Arab Potash revenue was negatively impacted by the decline in potash prices—similar to what we saw with PotashCorp, Agrium (AGU), Mosaic (MOS), and Intrepid Potash (IPI).
Major customers
In 2016, China and India were the number one and two customers, respectively, for Arab Potash. But a delay in contract settlements with India and China negatively impacted Arab Potash's demand and brought volatility to global potash prices (MOO).
Next, we'll discuss Israel Chemicals.