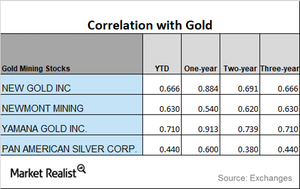 Directional Changes in the Correlation of Miners to Gold
Mining shares and funds
When reading the performance of mining stocks, it's important to analyze the correlation of mining stocks to gold. These stocks typically take their directional cues from gold, which is the most prominent precious metal. Gold's movement influences other precious metals as well as mining stocks.
In this part of the series, we'll assess Royal Gold (RGLD), Goldcorp (GG), New Gold (NGD), and Newmont Mining (NEM). Among the funds that also tend to have a strong correlation to precious metals are Merk Gold ETF (OUNZ) and the PowerShares DB Gold ETF (DGL).
Article continues below advertisement
Trend reading
On a year-to-date basis, the above miners' correlations appear to be weak compared to the previous year. Among the four miners, Goldcorp has the lowest correlation with gold, while Royal Gold has the highest correlation.
New Gold and Goldcorp have seen upward trends in their correlations with gold, while Newmont Mining has seen its correlation decline. The correlation of New Gold increased from 0.6 for a three-year correlation to 0.88 for a one-year correlation.
Royal Gold's correlation increased from a three-year correlation of 0.76 to a one-year correlation of 0.87. A correlation of 0.87 suggests that in the past year, Royal Gold has been taking cues from gold ~87% of the time. As a result, a rise in gold could lead to an increase in Royal Gold ~87% of the time.