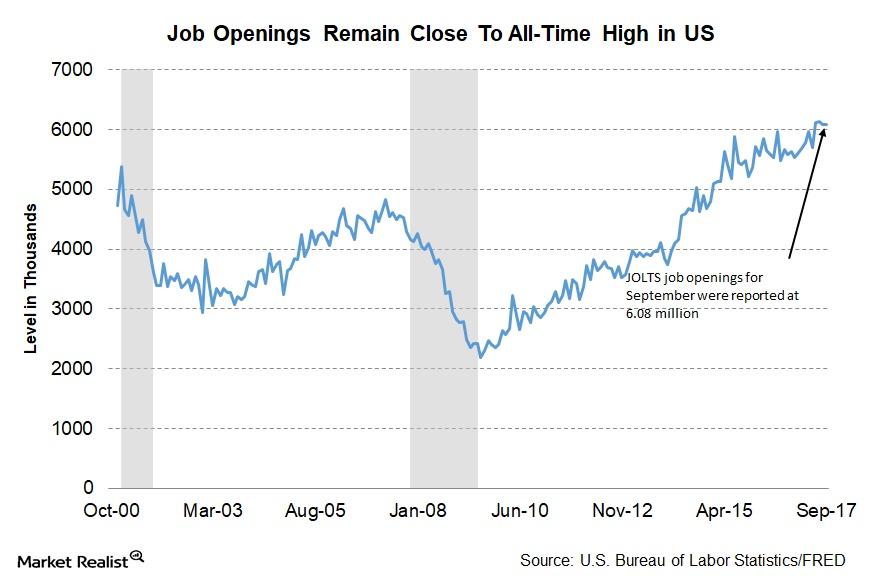 Did Job Openings Rise in September?
September JOLTS report remains supportive 
The Bureau of Labor Statistics conducts a monthly survey on job openings, number of new employees hired, number of employees who have quit, asked to leave, and other job separations. The survey data are collected from 16,000 business establishments in the US from the private and non-farm sectors.
The Job Openings and Labor Turnover Survey (or JOLTS) data for September came out on November 7. Job openings remained unchanged at 6.1 million as of the last business day in September. Job openings remain near lifetime high levels, a positive sign for the US economy.
Article continues below advertisement
Why should we track job openings?
The information contained in the monthly JOLTS report gives insight into the demand for labor force. Labor force demand increases when companies increase production. A projection for higher demand for goods in an industry is a positive sign for the sector and the stock prices of these companies. A higher demand for workforce leads to higher wages, which translates into higher spending power and finally into higher levels of inflation (TIP). Changes to the level of job openings help us understand the health of the sector.
Importance of JOLTS report in the current economic climate
As explained above, the JOLTS report can be considered a forward indicator of economic activity. When considering changes to the monetary policy, the US Fed takes the level of job openings into consideration. We need to remember that expectations for change in monetary policy impact expectations of future interest rates (AGG). Any changes to interest rates expectations affect the bond (BND), currency (UUP), and the financial services sector (XLF). The latest report doesn't seem to indicate a threat to the jobs market at least in the near future.
In the next part of this series, we'll look at the other important component of the JOLTS data, how many people quit their jobs in September and which industry had major changes in workforce demand.