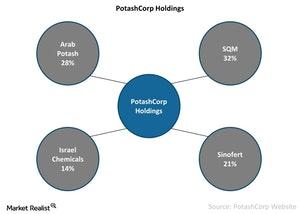 Inside the PotashCorp-Agrium Merger: Key Conditions
By Adam Jones

Updated
China's conditions
On November 7, 2017, Potash Corporation of Saskatchewan (POT), also known as PotashCorp, and Agrium (AGU) announced that they had received a conditional approval from China's Ministry of Commerce for their proposed merger. The conditions include requiring the companies to sell certain minority interests like Sociedad Quimica y Minera de Chile (SQM), Arab Potash, and Israel Chemicals (ICL). PotashCorp is also required to convert its active investment in Sinofert Holdings to passive investment.
Article continues below advertisement
Minority interest
PotashCorp holds less than 50% in the above four companies, where it may have a significant influence and control. It owns 32% of SQM and can appoint three of the eight board seats.
PotashCorp owns 28% of Arab Potash and can appoint three of the 12 board members. The company also owns 14% of Israel Chemicals (with no board seats) and 22% of Sinofert, wherein it can appoint two of the seven board seats.
Merger before divestment
The PotashCorp-Agrium merger is allowed to take place before these divestments in minority interests occur, however. China's Ministry of Commerce has permitted a time limit of 18 months for the combined company, Nutrien, to divest SQM and Arab Potash and a time limit of nine months to divest Israel Chemicals once the merger is consummated.
The merger has also received conditional approval from India, which is also requiring the divestiture of PotashCorp's minority interest in Israel Chemicals, Arab Potash, and Sociedad Quimica y Minera de Chile within 18 months of the approval.
Countries that have given unconditional approval for the merger include Russia, Brazil, and Canada. The deal is now awaiting approval in the US (XLB) and is expected to complete by the end of 4Q17. Initially, the deal was expected to close by mid-2017.
In the next part of this series, we'll discuss the profile of these minority interests and explore why China and India have set such conditions.