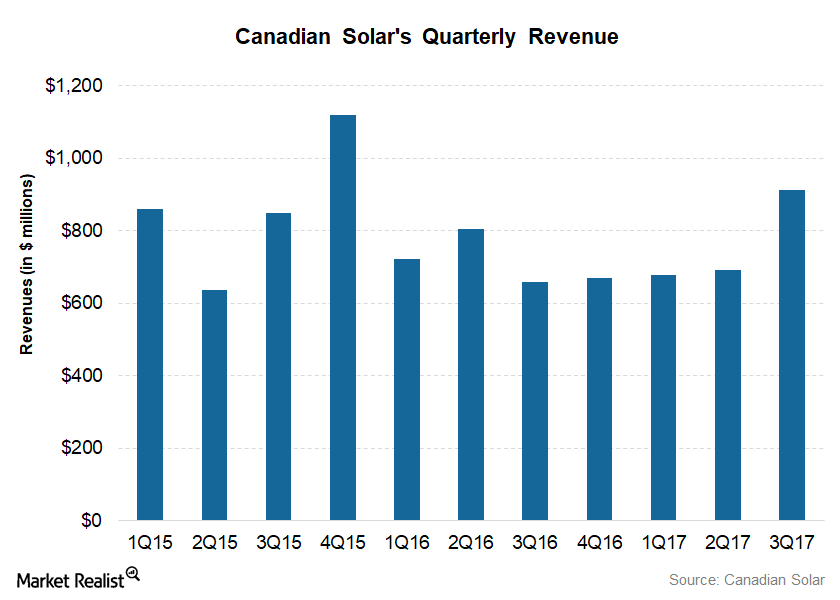 Canadian Solar Beat Analysts' 3Q17 Revenue Estimates
Canadian Solar's revenues
Canadian Solar (CSIQ) derives its revenues from its Module and Energy segments. The Module segment sells solar energy products. The revenues from this segment mostly depend on the selling price per watt and the volume of shipments.
CSIQ's Energy segment is involved in the development and sale of solar energy projects, as well as its EPC (Engineering, Procurement, and Construction) and O&M (Operations and Maintenance) services. It also includes the sale of electricity.
In 3Q17, Canadian Solar (CSIQ) reported overall revenues of ~$912.2 million against analysts' expectations of $813.4 million. Canadian Solar's revenues rose nearly 31.7% from $692.0 million in 2Q17 and nearly 38.8% on a year-over-year (YoY) basis.
Article continues below advertisement
Why was there a deviation?
CSIQ beat analysts' expectations primarily due to higher-than-anticipated 3Q17 shipments, which led to a higher-than-expected recognition of shipments in the company's revenues.
As we saw in the earlier part of this series, Canadian Solar had a 3Q17 shipment guidance of 1,650–1,700 MW (megawatts). CSIQ's shipments came in much higher at 1,870 MW. Revenues from Canadian Solar's Total Solutions business as a percentage of overall revenues totaled 21.6% in 3Q17 compared to 6.5% in 2Q17.
However, Canadian Solar's revenues from the sale of electricity in 3Q17 totaled $9.6 million, which was marginally lower than $9.8 million in 2Q17.
First Solar (FSLR) posted ~$1.1 billion in revenues in 3Q17. JA Solar (JASO), SunPower (SPWR), and Canadian Solar (CSIQ) reported revenues of $652.6 million, $477.2 million, and $912.2 million, respectively.
It's important to consider the revenue recognition methods utilized by these upstream solar (TAN) companies while comparing their financial data. These reported sales could fluctuate extensively depending on the revenue recognition model used.
Next, we'll discuss Canadian Solar's 3Q17 cost performance.