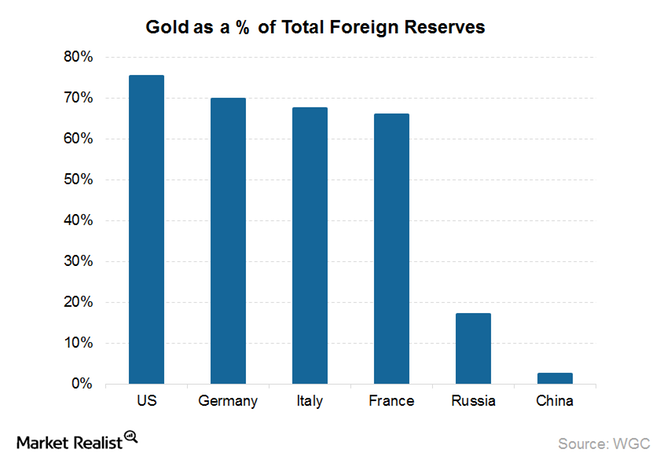 How Central Banks' Gold Buying Spree Coud Benefit Prices
Russia steadily buying gold
While China and Russia have the fifth and sixth largest gold reserves globally, the movements in them are the most watched by gold investors the world over mainly because these economies have been quite vocal about adding gold reserves. The key reason for adding reserves is to cut their dependence on the US dollar.
Russia embarked on an accelerated drive to buy gold starting in 2007. In the first nine months of 2017, Russia bought 4.2 million troy ounces of gold. In value terms, this comes to ~$5 billion, which is 15% higher than in the same period last year. At the end of September 2017, its gold holdings stood at 1,779 tons. The economic sanctions put on the country by the US acted as a catalyst for them to buy even more gold. According to the World Gold Council (or WGC), Russia has been adding 100 tons of gold every six months on average, which is higher than any other central bank in the world.
Article continues below advertisement
China is diversifying away from the dollar
China has also been on a gold accumulation spree in order to back up the yuan with gold so it can play an important role in the world's financial markets. China, however, has been quite secretive as far as the reporting of reserves. Between 2001 and 2015, it issued only four public updates regarding the reserves, after which it has started giving updates on a monthly basis. Many market participants believe that China's reserves could be a lot higher than what it actually reports. Given the fact that its gold reserves just form 2.4% of its total foreign reserves, there is a lot of potential to increase the gold holdings.
Decoupling of US dollar and gold
The rise in gold holdings for major central banks is good for gold prices. Due to the current geopolitical turmoil, countries like Russia and China are expected to continue to add to their gold reserves, which could be positive for gold prices as well as the stocks of gold miners (NUGT) (JNUG) such as New Gold (NGD), Barrick Gold (ABX), Yamana Gold (AUY), and Royal Gold (RGLD).