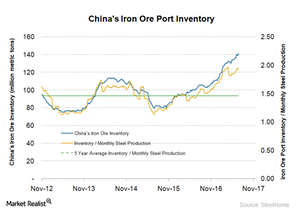 China's Ever-Rising Iron Ore Port Inventory
China's iron ore inventory
It's important for investors to keep tabs on iron ore port inventories in China. Inventory levels show the balance between demand and supply for iron ore This indicator helps you get a sense of the direction of iron ore prices.
It also measures the imbalance between supply and steel mill demand. When mill demand is high, inventories are used up more quickly, and vice versa.
Article continues below advertisement
Inventories inching up
Iron ore port inventories have remained high. According to SteelHome, as of November 17, port inventories reached 138.48 million tons—the highest level since August 4. The buildup of inventories might be due to the piling up of low-grade ore, which is no longer in demand by the Chinese mills due to a shift to higher-grade material to curb pollution.
Other factors are also responsible for the piling up of inventories despite strong demand in China. Vale's blending activities at ports, for example, are one reason for higher inventories.
Effect on iron ore prices
Usually, a buildup of inventories at ports is negative for iron ore prices. The recent shift of Chinese mills, however, from lower- to higher-grade materials has neutralized that impact to an extent. Miners (GNR) producing high-grade ore—such as Rio Tinto (RIO), Vale (VALE), and BHP (BHP)(BBL)—are enjoying higher premiums. Cleveland-Cliffs' (CLF) Asia-Pacific division and Fortescue Metals Group (FSUGY) produce relatively low-grade iron ore, thereby attracting discounts.