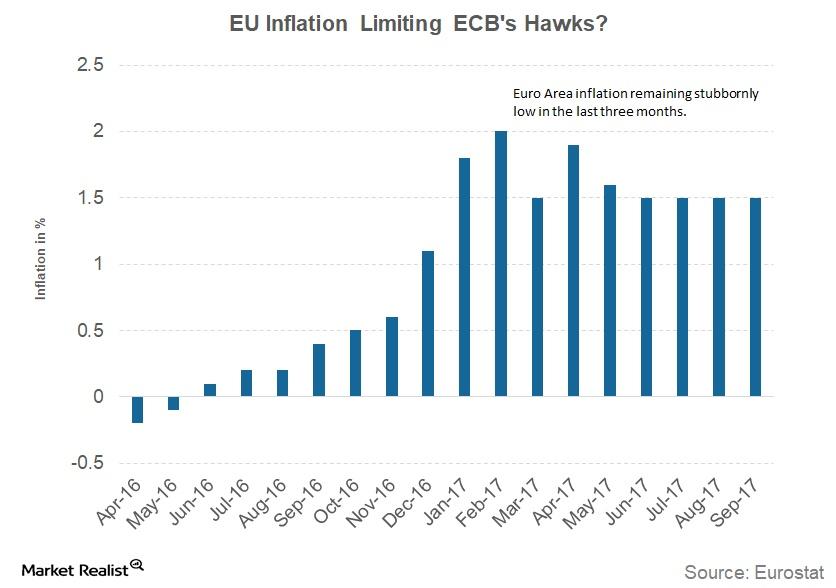 What's behind the European Central Bank's Normalization Plans?
European macro conditions continue to strengthen
The ECB's (European Central Bank) decision to reduce the quantum of asset purchase was influenced by improving macroeconomic conditions in recent months. Economic growth has picked up in recent quarters. According to data from Eurostat, the European economy (VGK) grew 2.3% in the recent quarter. Similar growth trends were observed in household consumption, exports, and fixed investments. Within the region, Spain (EWP) has seen the best GDP growth, followed by Italy (EWI) and France (EWQ). Germany (EWG) saw slower economic growth in the recent quarter.
Article continues below advertisement
Inflation is still uncertain
Inflation in the European Union continues to remain a cause for concern. The core inflation in the region has picked up in recent months. However, most of the inflation gains were fueled by volatile items like fuel and food. The uncertainty surrounding inflation growth is the key reason behind the ECB leaving its forward guidance unchanged at the October meeting. It gives the ECB sufficient room to extend the QE program beyond September 2018 if the economy doesn't improve on the expected lines.
Reinvestment details to be published in November
The other important announcement in the October meeting was the release of more details on reinvestment. The ECB said that the reinvestments will be made for an extended period even after the asset purchase program ends. Starting on November 6, the ECB will be publishing the expected redemptions each month for the QE program. The previous month's data will also be available. The reinvestments will be flexible, which means that the maturing securities will likely be replaced in the same month or in the following two months depending on the liquidity conditions.
In the next part of this series, we'll discuss why the ECB isn't worried about the rising euro anymore.