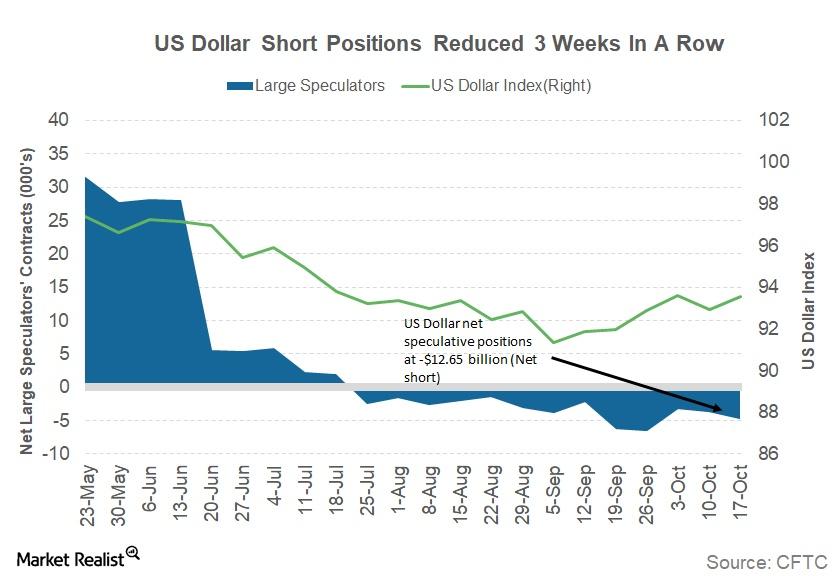 What to Expect from the US Dollar This Week
US dollar recovered last week
The US Dollar Index (UUP) has bounced back from the shallow low that it saw in the previous week. The US Dollar Index posted a weekly close of 93.6, appreciating by 0.69%, making it the fifth week of gains in the last six weeks. Encouraging economic data, the possibility of a rate hike, and President Trump's tax reform plans have all been supportive of the US dollar's rise.
The uptick in US bond yields and the developments surrounding the new Fed chair also influenced the US dollar's rise in the previous week.
Article continues below advertisement
Speculators turned bullish for the first time in seven weeks
As per the latest Commitment of Traders report, released on October 20 by the Chicago Futures Trading Commission (or CFTC), large speculators and traders continued to turn bullish on the US dollar.
As per Reuters' calculations, the US dollar's (USDU) net short positions fell to -$12.7 billion as compared to -$15.4 billion in the previous week. This amount is a combination of the US dollar's contracts against the combined contracts of the euro (FXE), British pound (FXB), Japanese yen (FXY), Australian dollar (FXA), Canadian dollar (FXC), and the Swiss franc.
Outlook for the US dollar
Developments surrounding the US tax reforms could add to the positive outlook of the US dollar. As long as there are no external surprises or a negative shock from a surprise appointment of the new Fed chair, the US dollar is likely to remain supported for the week ahead.
In the next part of this series, we'll discuss the performance of the US bond markets in the previous week and how bond yields could move in the week ahead.