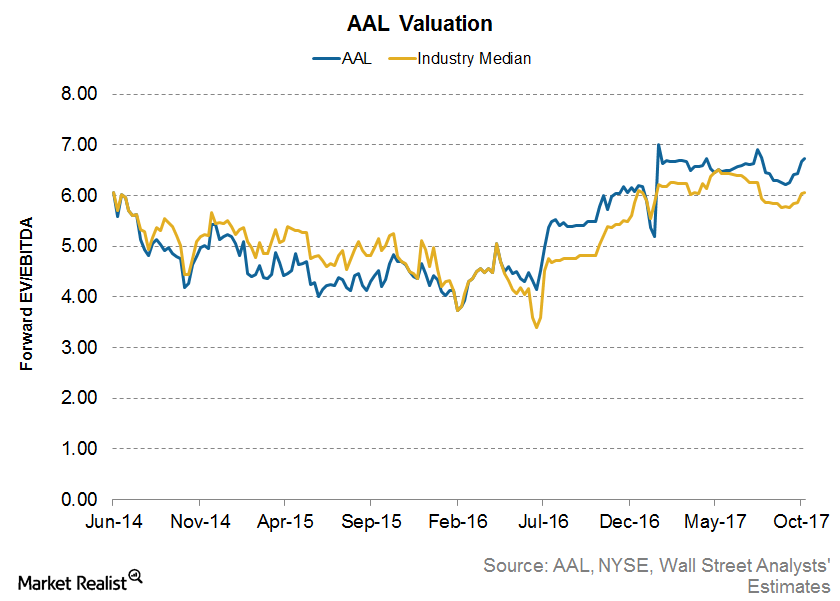 What Is Priced into American Airlines' Valuation?
Current valuation
Currently, American Airlines (AAL) is trading at a forward EV-to-EBITDA[1. enterprise value to earnings before interest, tax, depreciation, and amortization] ratio of 6.7x. This is the highest among its major peers and is higher than the industry median valuation of 6.1x. AAL's average valuation is 6.3x after its merger with US Airways in December 2013.

Article continues below advertisement
Peer comparison
Alaska Air (ALK) is also trading at the same valuation multiple as American Airlines. Southwest Airlines (LUV) is, however, trading at a higher multiple of 7.1x. Spirit Airlines (SAVE) is trading at a valuation multiple of 6.1x, and JetBlue Airways (JBLU) is trading at 5.9x.
Delta Air Lines (DAL) is trading at a multiple of 5.9x. United Continental (UAL) currently has the lowest multiple of 5.3x among its peers.
AAL's valuation is high, despite the market expecting its EBITDA to fall 1.5% in 2017. Its peers are expected to record higher earnings declines for the year. DAL's earnings are expected to fall 2.2%, and LUV's earnings are expected to fall 3.3%.
United Continental's earnings are expected to fall 9% and JetBlue's earnings are expected to fall 11%, which could be behind their low valuations. ALK's earnings are expected to grow 14.5% and SAVE's earnings are expected to grow 9.9%.
Looking ahead
American Airlines' (AAL) valuation has seen a recent run-up, primarily due to the better-than-expected 3Q17 guidance and an optimistic outlook for the fourth quarter. AAL is confident of achieving higher unit revenue growth in 4Q17 than the slim 1% YoY growth it achieved in 3Q17.
However, for its 4Q17 margin to increase compared to the fairly low 7.9% operating margin the airlines recorded in 4Q16, AAL would have to achieve unit revenue growth of 5%–6%.
Investors may want to focus on long-term industry dynamics such as fuel prices. A small increase in fuel prices in the third quarter sent American Airlines' margin falling to 10% compared to the 14% it achieved in 3Q16. American Airlines' ability to sustain debt is among the key factors for investors to track.
Investors can gain exposure to American Airlines by investing in the PowerShares Dynamic Large Cap Value Portfolio ETF (PWV), which invests ~1.6% of its portfolio in American Airlines.