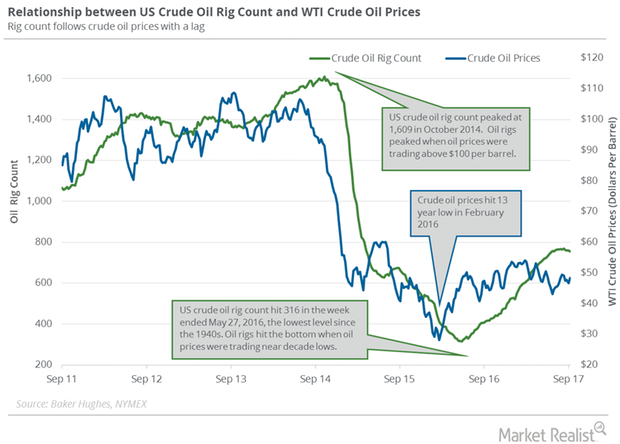 US Crude Oil Rig Count Could Be Slower in 4Q17
US crude oil rig count in 3Q17 
The US crude oil rig count fell by six in 3Q17. However, US crude oil rigs rose by 94 in 2Q17. The rigs slowed down due to lower crude oil (UWT) (SCO) (UCO) prices in 2Q17.
On September 29, 2017, Baker Hughes (BHI) reported that the US crude oil rig count rose by six to 750 on September 22–29, 2017. The rigs have risen 77% year-over-year. The rigs rose for the first time in four weeks due to the rise in crude oil (SCO) (DBO) prices.
Article continues below advertisement
Peak and low
The US crude oil rig count hit a record 1,609 in October 2014. On the other hand, it hit 316 in May 2016—the lowest level since the 1940s. US crude oil rigs have risen by 434 or 137% from the low in May 2016.
The above chart shows the relationship between US crude oil rigs and crude oil prices. Brent (BNO) and US crude oil (USO) prices are at a multi-month high. Higher crude oil prices have a positive impact on drilling activity. They benefit drillers like Atwood Oceanics (ATW), Schlumberger (SLB), and Diamond Offshore (DO).
Impact  
US crude oil rigs are at a one-month high. The number of active oil rigs could rise if crude oil prices trade firm in 4Q17. In contrast, the rise in rigs could increase US crude oil supplies, which would pressure crude oil (UWT) (DWT) prices.
Read Will Brent and US Crude Oil Prices Rise in 2018?, Are US Crude Oil Supplies Getting Bearish for Oil Prices?, and Will the US Crude Oil Bull Market Be Short-Lived? for more on crude oil prices.
Read An Opportunity in Natural Gas? to learn more.