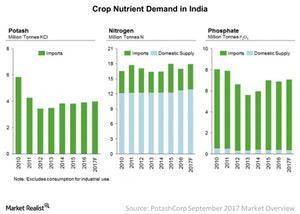 India Expects Fertilizer Consumption to Rise in 2017
By Adam Jones

Updated
India
India is another major market for NPK (nitrogen, phosphate, and potash) fertilizers. The country is partly self-sufficient in nitrogen fertilizers, but it's primarily dependent on imports for its potash and phosphate needs. India is expected to experience YoY (year-over-year) growth in the consumption of all three NPK fertilizers in 2017.
Article continues below advertisement
Demand
India's market has seen steady growth in the consumption of NPK fertilizers over the years. While it has a high self-sufficiency in nitrogen fertilizers, it plans to be fully self-sufficient by 2022. The move comes on the back of lowering the reliance on international markets where volatile prices work against the local growers.
For potash and phosphate fertilizers, the country will remain dependent on imports for years to come. While urea is the primary fertilizer consumed, as the need for quality grows, the demand for a balanced NPK application will also grow. The need for potash and phosphate fertilizers will improve, which will benefit companies (MOO) like PotashCorp (POT), Mosaic (MOS), Agrium (AGU), and Israel Chemicals (ICL).
Monsoon
The monsoon in India is closely watched for agricultural activities. India gets most of its rainfall from June to September. India received 95% of its long-term average rainfall (a period of over 50 years) during the monsoon, according to the IMD's (Indian Meteorological Department) latest report. It was slightly below the IMD's expectation of 96% for the 2017–2018 season and 97% in the 2016–2017 season.
The monsoon crop in India was 2.8% lower than last year's levels at 134.7 million metric tons, according to the agriculture ministry. A recent report published by Economic Times, a local media outlet in India, stated that Indian officials don't think that the lower production will pressure the related crop prices.
In the next part, we'll discuss Brazil's fertilizer market.