Southern and Nextera Energy: First Solar's Key Customers
High customer concentration In 2016, First Solar (FSLR) sold solar modules to customers in the United States, India, and the United Arab Emirates. Approximately 23% of its total revenue was from third-party module sales. The majority of First Solar's customer base is in the United States, which makes up to more than 80% of total […]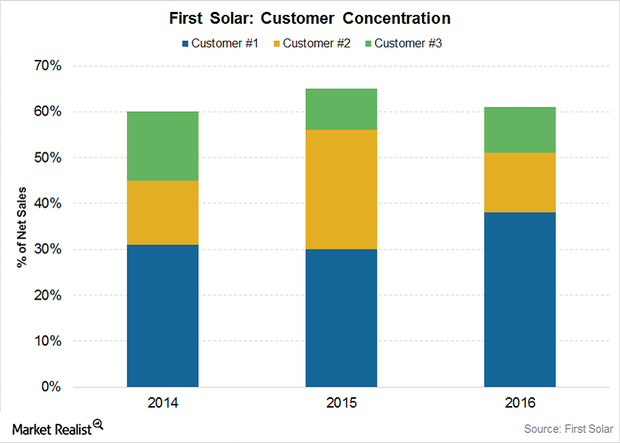 High customer concentration
In 2016, First Solar (FSLR) sold solar modules to customers in the United States, India, and the United Arab Emirates. Approximately 23% of its total revenue was from third-party module sales.
The majority of First Solar's customer base is in the United States, which makes up to more than 80% of total revenue. Southern (SO), NextEra Energy, and Recurrent Energy are First Solar's primary customers. According to company filings, each of the companies contributed more than 10% of First Solar's revenue in 2016.
Article continues below advertisement
Article continues below advertisement
Southern
Headquartered in Atlanta, energy provider Southern (SO) owns electric and natural gas distribution utilities. The energy company primarily operates in the southeastern United States and has a generation capacity of 46,000 MW (megawatts). Southern Power, a subsidiary, has a generating capacity of 12,700 MW, with operations in 11 states.
NextEra Energy
NextEra Energy (NEE) is headquartered in Juno Beach, Florida. It is reportedly the largest renewable electricity generator in the United States. In 2016, NextEra had a generating capacity of ~46,000 MW. It is rated "Baa1" (stable) by Moody's and "A-" (stable) by S&P. The company is part of the S&P 500 (SPY).
Article continues below advertisement
Recurrent Energy
A subsidiary of Canadian Solar (CSIQ), Recurrent Energy supplies electricity in North America. It is a developer and operator of utility-scale solar plants. The company is located in San Francisco, California.
 Concentration
First Solar's geographical and customer concentrations are strong. Notably, all of its primary customers are investment-grade companies, which partly reduces the company's concentration risk.