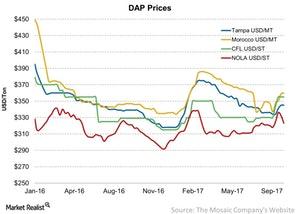 Phosphate Market Struggles, Hope from Demand Growth
By Adam Jones

Updated
Phosphate
Among the three NPK (nitrogen, phosphate, and potash) fertilizers, phosphate fertilizers have had the worst recovery. The effects were evident in the phosphate segment's (MOO) performance for PotashCorp (POT), Mosaic (MOS), Agrium (AGU), and Israel Chemicals (ICL).
Article continues below advertisement
Prices
Unlike the potash and nitrogen (urea) prices for phosphate fertilizers, DAP (diammonium phosphate) prices have remained weak this year. As of the week ending October 6, the DAP prices in Tampa were 4% higher YoY (year-over-year). In Central Florida, the DAP prices were ~8% higher YoY. In New Orleans, the DAP prices were ~3% higher YoY.
Supply side
The market continues to see excess capacity. More capacity is expected to come online in Morocco and Saudi Arabia, according to PotashCorp. While the new capacity addition will take place, exports are expected to fall from China. The country aims to fulfill its zero fertilizer growth mandate.
According to PotashCorp, China's DAP and MAP (monoammonium phosphate) exports are expected to be 8 million–9 million metric tons in 2017. Its exports were 8.8 million metric tons in 2016.
Since ammonium phosphate uses ammonia as an input, the government's policy disfavoring nitrogen producers will also impact phosphate production. An increase in the cost of production will impact Chinese producers, which might result in a rebalancing of the supply-demand dynamics.
Demand
The consumption in India and other Asian markets is expected to grow YoY. The Brazilian market is expected to see a significant growth in phosphate fertilizers in 2017. The phosphate consumption is expected to be flat in China YoY in 2017.
In the next part, we'll discuss China's fertilizer market.