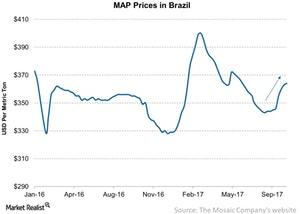 Analyzing the MAP Prices in Brazil Last Week
MAP prices
The MAP (monoammonium phosphate) prices in Brazil saw positive momentum last week. Brazil is still a favorable market for fertilizer producers (NANR) like PotashCorp (POT), Mosiac (MOS), Agrium (AGU), and Israel Chemicals (ICL). More agricultural activity in the region increased the demand for fertilizer products.
Article continues below advertisement
Price movements
In the week ending October 13, the MAP prices in Brazil rose by 28 basis points week-over-week to $364 per metric ton from $363 per metric ton. However, MAP prices are still weak this year with 4% growth from the levels in the same week last year.
During the year, MAP prices have ranged between the lower bound of $328 per metric ton and the upper bound of $400 per metric ton, as you can see in the above chart.
Increased agricultural activity in the Brazilian market is expected to continue as we go into 2018. The need for fertilizers might be buoyed by this growth. Brazil is expected to have an impressive soybean and corn crop this season, which supports major macronutrient consumption.
To learn more about macronutrient and the fertilizer industry, read Agricultural Fertilizer Industry: Your Comprehensive Overview.
Next, we'll discuss the movements in potash prices.