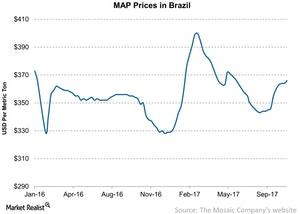 A MAP Price Update for the Week Ended October 27
MAP prices
MAP (monoammonium phosphate) is another type of phosphate fertilizer used extensively in Brazil. Prices for MAP have struggled after reaching a peak of $400 per metric ton in March 2017. Prices hit a low of $343 per metric ton in August but have been on an upward momentum since then. Let's see how MAP prices trended last week, which ended October 27, 2017.
Article continues below advertisement
Weekly momentum
Last week, MAP prices in Brazil rose 55 basis points week-over-week to $366 per metric ton, from $364 per metric ton a week ago. Last week's prices were ~6.7% higher from the recent low of $343. They were ~8.5% lower from the peak of $400.
Among the emerging fertilizer markets, Brazil remains promising with growth in agricultural activity. This has not only improved the outlook for fertilizer producers (MOO) that sell phosphate in the country but also for nitrogen and potash producers. They include Mosaic (MOS), PotashCorp (POT), Agrium (AGU), and Israel Chemicals (ICL).
Brazil is dependent on imports for most of its nitrogen, phosphates, and potash fertilizer needs. The country is somewhat self-sufficient in phosphate fertilizers but is expected to fulfill more than half of its needs from imports. To learn more about the demand, read Analyzing the Fertilizer Industry before Earnings Season.
Next, we'll take a look at the price momentum for potash fertilizer for the week ended October 27.