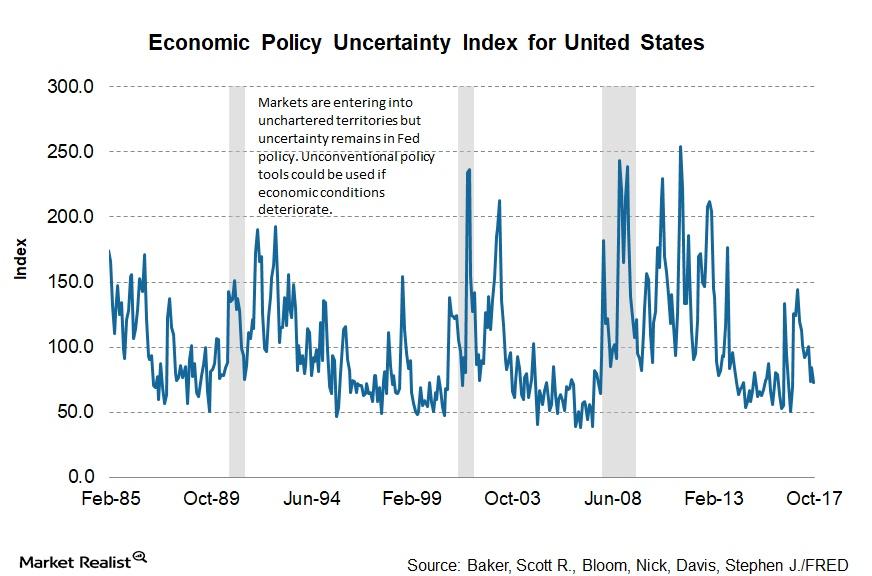 Janet Yellen: A Key Question for the Future
A preferred monetary policy tool?
In a speech at the 2017 Herbert Stein Memorial Lecture, Fed Chair Janet Yellen shared her thoughts on monetary policy for the future and discussed whether there would be any role for unconventional policy again. She has shared her thoughts on the new normal for neutral interest rates (AGG) when the economy is at a full employment and prices (TIP) are stable. In her view, short-term interest rates would be the preferred monetary policy tool once the normalization process is complete.
Article continues below advertisement
Will there be a need for unconventional policy again?
There would always be a possibility of using unconventional monetary policy in the future. Any economy or business moves through cycles. A slowdown in economic growth would increase the need for accommodation from the Fed, which is provided by lowering interest rates (IEI). In an economy where interest rates are already low, unconventional policy tools are the only option to save the economy.
Concluding remarks from Janet Yellen
In the remarks summarizing the speech, Yellen said that the last decade has been challenging for the Fed. She believes the Fed has managed to navigate the first part of the challenge to bring the economy toward normalcy. The progress for achieving the second target to scale back monetary accommodation has been on track, with interest rates (BND) moving closer to a normal level and the Fed's balance sheet starting to shrink.
Janet Yellen, however, said that the Fed funds rates and the balance sheet might not return to pre-crisis levels anytime soon. There could be a new neutral level for short-term interest rates, which could be significantly lower than historical averages. When challenges emerge again, and if the Fed runs out of its short-term rate (SHY) cut tool, unconventional tools are likely to be used again.