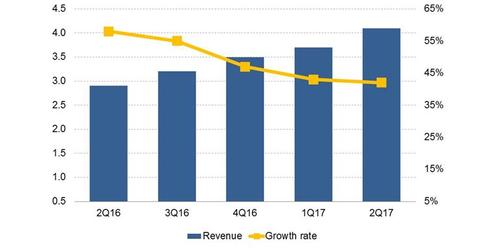 Importance of the Amazon Brand
By Neha Gupta

Updated
Amazon controls the largest share of the cloud market
While Amazon (AMZN) could easily absorb the $294.0 million tax bill recently imposed by the European Commission for its business in Luxembourg, these types of issues usually aren't good for a company's image.
Amazon operates in highly competitive industries such as e-commerce and cloud computing. It controls the lion's share of the global cloud computing market, according to Synergy Research Group. Amazon's cloud business grew 42.0% in 2Q17 compared to 97.0% growth for Microsoft's (MSFT) in the same quarter. 
Article continues below advertisement
Europe is a coveted e-commerce market
Beyond cloud computing, Amazon depends on Europe (EFA) to grow its e-commerce business. According to Ecommerce Europe, Europe's e-commerce industry could grow 14.0% this year to 602.0 billion euros (or $685.0 billion). The industry grew 15.0% to 530.0 billion euros in 2016. Growth last year outpaced the forecasts.
Walmart (WMT), whose US (SPY) online gross sales grew 67.0% in fiscal 2Q18 (June quarter), has stepped up competition with Amazon for control of the e-commerce industry. The competition includes Europe, a coveted e-commerce market.