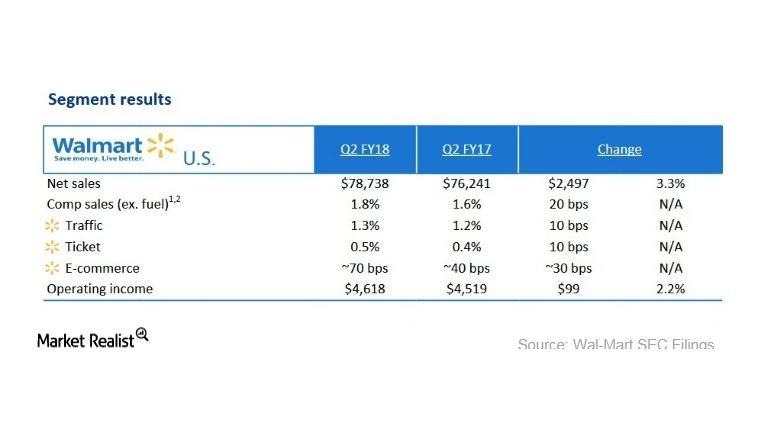 Walmart Takes On Amazon in a Marketplace Duel
29% of merchants eye Walmart.com
With large traditional retailers expanding online and catching up with their pure-play e-commerce rivals, the battle for the attention of third-party vendors was always going to be a fierce one.
Walmart (WMT) is emerging as a forceful challenger to Amazon (AMZN) in the marketplace business—the practice of charging outside merchants to use the company's platform to connect with customers.
According to eMarketer, Walmart.com is the preferred platform for most vendors looking to expand their online channels. When merchants were asked about the platform they would expand to this year, 29% of the respondents cited Walmart.com, putting it ahead of alternative marketplaces such as eBay (EBAY), Etsy (ETSY), and Walmart's Jet.com.
Article continues below advertisement
Walmart registers 67% US GMV growth
Walmart is also popular with large third-party merchants. For example, eMarketer says 36% of third-party merchants that make more than $2.0 million in annual sales have a presence on both Walmart.com and Amazon.com.
Walmart reported that its US e-commerce GMV (gross merchant volume), which includes marketplace transactions, increased 67% year-over-year in fiscal 2Q18 (June quarter). The chart above offers a glimpse into the performance of Walmart's US operation.
Marketplace is big business
With the growing shift to online shopping, marketplace operators like Amazon, Walmart, eBay, and Alibaba (BABA) have more than one avenue to generate revenues from their platforms.
In addition to taking a cut of sales from their marketplaces, these companies also provide an array of other services and solutions for a fee to third-party vendors. These services and solutions include advertising, payment support, and small business loans.