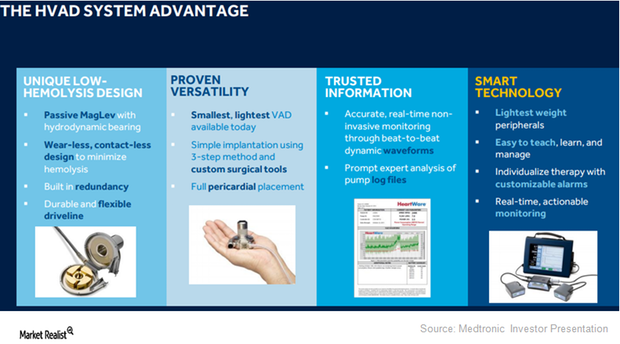 HVAD Expected to Expand Medtronic's Presence in LVAD Segment
By Margaret Patrick

Oct. 2 2017, Updated 2:06 p.m. ET
Multi-pronged strategy
Medtronic (MDT) is improvising on the features of its existing Heartware LVADs (left ventricular assist devices) and improving the service infrastructure for this product portfolio. Medtronic is also confident that it will secure timely regulatory approvals for its product innovations. The company is the largest contract research organization in the world and is thus confident of its regulatory expertise and post-approval study networks. The company also plans to increase its scale and penetration level in the cardiovascular space by integrating its marketing force with Heartware's.
If Medtronic effectively implements this multi-pronged strategy, it could boost MDT stock as well as the stock of the iShares Russell 1000 Value ETF (IWD). Medtronic makes up about 0.83% of IWD's total portfolio holdings.
Article continues below advertisement
HVAD system
On September 27, 2017, the FDA (U.S. Food & Drug Administration) approved Medtronic's HVAD (HeartWare ventricular assist device) system as a destination therapy for advanced heart failure patients who are not eligible for heart transplant surgery.
This device reduces hemolysis, one of the major fatal complications associated with LVADs. Since the device is 30.0% smaller than existing LVADs, it's eligible for thoracotomy implants in the pericardial space in the body. Unlike the sternal implant approach of an LVAD implant, there is no fibrous tissue in that area. The small device can also be used in patients with smaller bodies. The small device keeps much of the pericardium intact and reduces the probability of right heart failure, a major complication of this therapy.
On November 29, 2016, Medtronic secured a CE Mark from the European Commission for a less invasive thoracotomy implant procedure for the HVAD device.
Based on data from the ENDURANCE supplemental trials and the ENDURANCE trial, Medtronic also aims to secure FDA approval for the HVAD as a bridge-to-transplant therapy.
The HVAD system is expected to enable Medtronic to compete effectively with other LVAD players such as Abbott Laboratories (ABT), Abiomed (ABMD), and Edwards Lifesciences (EW).