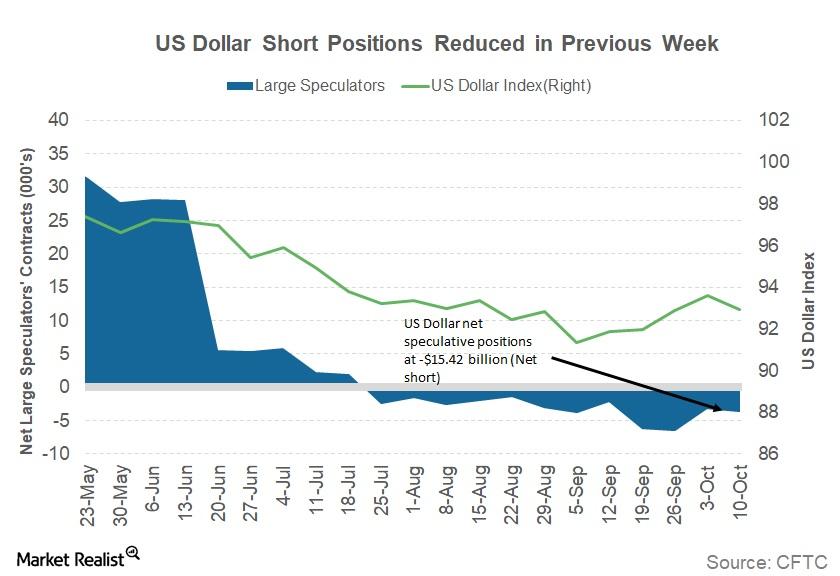 Has the US Dollar Rally Ended for Now?
US dollar breaks four-week winning streak
The US Dollar Index (UUP) turned lower again in last week after a surprise rally following the October jobs report on October 6. The US dollar index posted a weekly close of 92.94, depreciating by 0.75 after posting four consecutive weeks of gains. The dollar's fall might not have been fueled by US economic data, as the reports were close to expectations last week.
One reason that could make sense is that there was too much confidence about the December rate hike. The Fed minutes reported last week gave rise to doubts about the December rate hike, but the odds remain above 80%. This rise in uncertainty about the December rate hike could have been the reason for last week's decline.
Article continues below advertisement
Article continues below advertisement
Speculators turned bullish for the first time in seven weeks
As per the latest "Commitment of Traders" (or COT) report released on October 13 by the Chicago Futures Trading Commission (or CFTC), large speculators and traders reduced their short positions for the second week in a row.
As per Reuters calculations, net US dollar (USDU) short positions fell to -$15.42 billion, compared to -$16.83 billion in the previous week. This figure is a combination of US dollar contracts against combined contracts for the euro (FXE), British pound (FXB), Japanese yen (FXY), Australian dollar (FXA), Canadian dollar (FXC), and Swiss franc.
Outlook for the US dollar
The US dollar's fate is entwined with the developments surrounding North Korea and speculation about the December rate hike as well as the next US Fed chair. None of these uncertainties are likely to resolve this week, leaving the US dollar vulnerable. In terms of economic data, US industrial production and housing market data are scheduled to be reported, but the impact is likely to be limited.
In the next part of this series, we'll discuss the performance of the US bond markets last week and how bond yields could move in the week ahead.