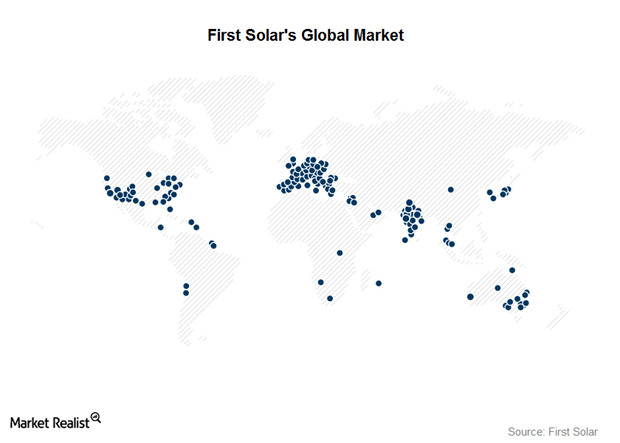 First Solar's Global Market Strategy
The Americas
The US PV (photovoltaic) market made up ~83% ($2.9 billion) of First Solar's (FSLR) revenue. The United States has typically been First Solar's largest market, and where many of its prominent projects and customers are located. First Solar has completed the construction of Del Sur, a 26 MW (megawatt) solar project in Honduras. It commenced commercial operations in July 2015. First Solar is steadily developing its footprint in Brazil and Mexico.
Article continues below advertisement
Article continues below advertisement
The Asia-Pacific region
The Australian solar market is expected to grow, driven by PPA (power purchase agreement) demand from utilities. The Fukushima Daiichi nuclear disaster in 2011 made Japan a favorable PV solar market. The Japanese government announced its intentions to provide support for solar power installations and increase solar power capacity, which may boost solar power demand in the country. In India, First Solar has secured a 25-year PPA. First Solar is developing its business in Indonesia, the Philippines, Malaysia, and Thailand as well.
Europe and the Middle East
First Solar is actively involved in module sales in Germany, France, and the United Kingdom. The European PV solar market is limited primarily due to stringent government regulations and market constraints. First Solar, which entered the Middle East in 2013, is constructing a 13 MW solar park in Dubai and has constructed a 53 MW solar power system in Jordan.
First Solar's geographical presence differentiates it from solar power (TAN) competitors Trina Solar (TSL), Yingli Solar (YGE), and JA Solar (JASO), which draw most of their revenue from China and Europe.