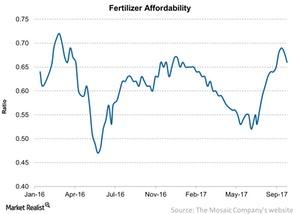 Fertilizer Affordability Index Update for October 6
Fertilizer affordability
The Fertilizer Affordability Index kept trending lower last week, continuing its two-week streak. The index remains below one, indicating that fertilizers remained affordable last week.
Article continues below advertisement
Weekly movements
Mosaic (MOS) issues the Fertilizer Affordability Index, which shows the relationship between the prices of key fertilizer-consuming crops to prices of NPK (nitrogen, phosphorous, and potassium fertilizers). This ratio was indexed to one in 2005, and a level below one usually means that fertilizers are relatively affordable compared to the base year. A ratio above one means the opposite.
Last week, the Fertilizer Affordability Index fell from 0.68x to 0.66x. The Index, however, remains well above the low point of 0.47x observed more than a year ago in 2016.
What does this mean?
Higher fertilizer affordability is favorable for companies such as PotashCorp (POT), Mosaic (MOS), CF Industries (CF), and Agrium (AGU). Higher affordability is supportive of demand for fertilizers. To know more about the fertilizer industry, read our industry primer, Agricultural Fertilizer Industry: Your Comprehensive Overview.
These companies (MOO) are set to announce their earnings this month and we will get more insight into movements in fertilizer prices and the impact of higher affordability. Keep checking back for more updates.