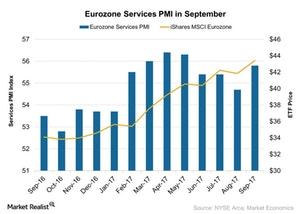 The Eurozone Services PMI Improved Strongly in September
Eurozone services PMI in September
According to a report by Markit Economics, the final Eurozone services PMI (purchasing managers' index) rose strongly in September 2017. It stood at 55.8 in September 2017, up from 54.7 in August 2017. The PMI figure meets the preliminary market estimation.
Among various member countries of the Eurozone, Germany (EWG), Spain (EWP), and France (EWQ) posted a stronger service PMI in September 2017. All these economies added more value to the performance of the Eurozone services PMI.
Between June and August 2017, the services PMI showed a fall in performance. However, in September 2017, it rose strongly. The stronger performance in the Eurozone services PMI in September was mostly due to the following factors:
Production volume and output rose at a stronger pace in September 2017.
New business orders and export orders also grew at a faster pace in September 2017.
The job growth in the economy also improved in September 2017.
Article continues below advertisement
Impact on the economy
The Eurozone economy has been showing a robust recovery. The improvement in its manufacturing PMI, services PMI, economic growth, inflation, consumer confidence, and business confidence index all signal that its equity market could provide a notable opportunity to investors.
The iShares MSCI Eurozone ETF (EZU) and the Vanguard FTSE Europe ETF (VGK), which track the performance of the Eurozone (HEDJ)(FEZ)(IEV), rose nearly 3.5% and 3.2%, respectively, in September 2017.
In the next part of this series, we'll look at the services PMI for the UK (EWU) in September 2017.