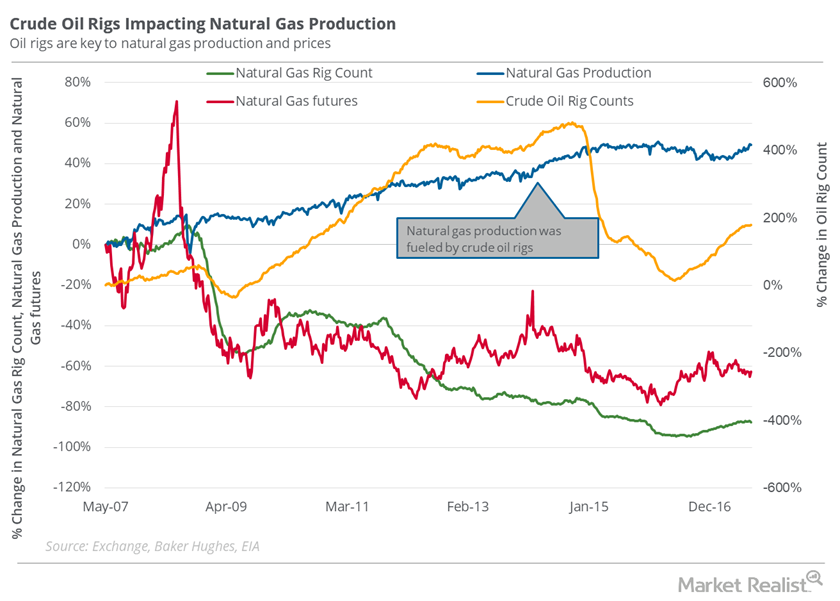 Could Oil Rig Count Stop Natural Gas Fall?
The natural gas rig count
In the week ended October 6, 2017, the natural gas rig count fell by two to 187. On a year-over-year basis, the natural gas rig count rose 98.9%. During this period, US natural gas marketed production rose 4.8%, and natural gas prices fell 10.8%. However, the natural gas rig count isn't the only factor responsible for the rise in natural gas supplies. However, it still shows the negative impact of the rising natural gas rig on natural gas prices in the past. Moreover, if the natural rig count rises further, it could be negative for natural gas (FCG) (BOIL) prices in the future.
Article continues below advertisement
The oil rig count
Since 2008, the natural gas rig count is down 88.3% from its historic high. However, natural gas supplies rose during this time period. The rise in the US oil rig count over this time period could have increased natural gas supplies. Often, natural gas is associated with oil's extraction.
Last week, the oil rig count fell by two to 748. Moreover, on a short-term basis, the oil rig count may stall or fall, which could bring some hope of recovery in natural gas prices.
Plus, compared to September 2017 and October 2017, the new-well gas production per rig could fall by 3,000 cubic feet per day. A fall in the natural rig efficiency could also help support natural gas prices. These factors could be important for natural-gas-weighted stocks such as Chesapeake Energy (CHK), Cabot Oil & Gas (COG), and Rice Energy (RICE).