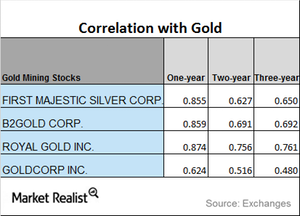 Chart in Focus: Correlation of Mining Stocks with Gold
Mixed performance
Monday, October 2, 2017, was a mixed day for precious metal mining stocks as metals saw a down day. Although a rise in metals can lead to a rise in mining stocks, there are exceptions such as Monday's trading day.
It's important to understand the correlation trends between gold mining stocks and gold to read their relative movements. Below, we'll analyze Royal Gold (RGLD), Goldcorp (GG), New Gold (NGD), and Newmont Mining (NEM) for their correlations with gold.
Article continues below advertisement
Correlation trends
Among the four miners that we're examining in this part, Newmont Mining has the lowest correlation with gold over the past year, while New Gold has the highest correlation.
Over the last three years, New Gold and Goldcorp have seen an upward-moving trend in their correlations with gold, while Newmont Mining's correlation to gold fell. Royal Gold has witnessed a mix of upward and downward trends in its correlation to gold.
New Gold has a three-year correlation of 0.67 and a one-year correlation of 0.88 to gold. A correlation of 0.88 means that about 88.0% of the time during the past year, New Gold has moved in the same direction as gold.